Report: Draft Of SCOTUS Decision Would Overturn Roe v. Wade, Ending Constitutional Abortion Rights
A draft of the U.S. Supreme Court majority opinion obtained by POLITICO shows that judges believe the 1973 landmark case was 'egregiously wrong.'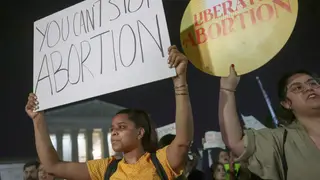 A draft of a U.S. Supreme Court opinion shows that justices have voted to overturn the 1973 Roe v. Wade, which gives the constitutional protection of aborion rights, one of the most politically contentious issues of the past 50 years.

The draft, exclusively obtained and reported by POLITICO, contains a 98-page majority opinion written by Justice Samuel Alito in which he remarks, "Roe was egregiously wrong from the start." He also includes the 1992 case Planned Parenthood v. Casey, which backed the Roe decision. "We hold that Roe and Casey must be overruled," he continues. "It is time to heed the Constitution and return the issue of abortion to the people's elected representatives."

This essentially means that the right to terminate pregnancies would be determined by individual states, but would not be guaranteed by the U.S. Constitution. But the Associated Press reports that striking down the Roe decision could lead to abortion bans in half of all states and have a serious impact on the midterm elections.

POLITICO only received a draft copy, and it is not uncommon for justices to change their votes before an opinion is officially published. The high court's ruling would not be final until that publication comes, likely within the next two months, the website reports.

Reaction to the possibility that Roe could be stricken was swift among supporters of abortion rights.

"This is a war on women, and it will disproportionately impact marginalized communities. As a former board chair of Planned Parenthood of IL and a woman who has had an abortion, this is deeply personal," said Cook County, Ill., States Attorney Kim Foxx in a Twitter post.
Others were equally outraged and are now more focused than ever on preserving abortion rights, though it is not clear what their strategy will be if the court does, in fact, overturn Roe.
Planned Parenthood, a women's health care provider that assists women in making decisions on termination of pregnancy, made clear that women can still receive legal abortions and abortion services are available to any woman who needs them.
However, Alexis McGill Johnson, CEO of Planned Parenthood, which has been centered in many of the controversies surrounding abortion said in a statement  that the enemies of abortion rights are now focusing in tightly.

"This leaked opinion is horrifying and unprecedented, and it confirms our worst fears: that the Supreme Court is prepared to end the constitutional right to abortion by overturning Roe v. Wade. While we have seen the writing on the wall for decades, it is no less devastating, and comes just as anti-abortion rights groups unveil their ultimate plan to ban abortion nationwide, she said. "Understand that Planned Parenthood and our partners have been preparing for every possible outcome in this case and are built for the fight. Planned Parenthood health centers remain open, abortion is currently still legal, and we will continue to fight like hell to protect the right to access safe, legal abortion."

The case heard by the court which spurred the potential ruling, Dobbs v. Jackson (Miss.) Women's Health Organization, is an argument involving the 2018 Mississippi law which prohibits abortions, with only a few exceptions, after 15 weeks of pregnancy. The state was restrained from enforcing the law after failing to prove that a fetus was viable after 15 weeks. The case went to the Fifth Circuit U.S. Court of Appeals and eventually to the U.S. Supreme Court.

RELATED: Supreme Court To Hear Arguments On Mississippi Abortion Law
RELATED: Whoopi Goldberg Sounds Off About Abortion Rights On 'The View'

Citing an unnamed source, POLITICO said that conservative Supreme Court justices Clarence Thomas, Neil Gorsuch, Brett Kavanaugh and Amy Coney Barrett voted along with Alito after oral arguments were made in December 2021. Stephen Breyer, Sonia Sotomayor and Elena Kagan, the three more liberal judges on the court are said to be working on dissenting opinions.