'Fences' Movie Review: 'Give Viola Davis Her Oscar!'
This time, the superheroes are the actors.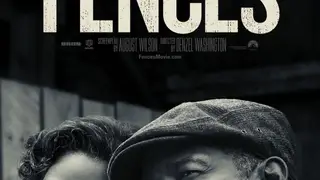 Fences is the jackpot for a dramatic actor. No action. No explosions. No CGI. The movie is all about the script and the superheroes are the actors.
Directed by Denzel Washington, Fences, which is based on the play by August Wilson, is no easy feat to bring to the big screen. Plays don't always translate for moviegoing audiences, but not a bit of soul is missing. Fences is equally memorable and timeless, going beyond demographics, hitting you in the heart. 
Viola Davis and Denzel Washington are otherworldly in their performances as husband and wife in 1950s America. Their performances are so authentic, you almost feel like you are sitting in their living room. This is a human story about family, love, death and salvation. While the build is so slow, the takeoff is an emotional explosion, led by two acting legends in roles that won them both Tony Awards in 2010. The awards will shower down this year. 
It's hard to say Viola Davis as Rose is the best performance of her career because she slays in every role. But I can't imagine any actor this year, man or woman, who can top her portrayal of housewife struggling with her husband's heartbreak while forcing herself to repress her own. The character is every woman and Davis is fearless — once again. 
Two-time Oscar winner Denzel Washington directs and stars as Troy. A man who had his dreams stolen from him but takes out his anger on the people he loves. This is an ordinary story that Washington makes powerful. 

Fences opens Christmas Day.
See how Denzel and his wife Pauletta helped institutionalize Black history with BET Breaks above.