Michelle Obama Opens Up About Sasha and Malia's Remote Learning During Pandemic
Sasha and Malia are adjusting to their new reality, even though they really just want to be on campus.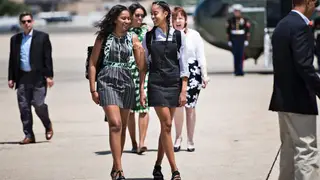 Children around the country have adjusted to a new reality where remote learning has taken the place of in-person instruction at many schools and colleges. The prospect of working from home can be exciting and intimidating the same time, depending on who you ask. But according to former First Lady Michelle Obama, her daughters are learning to navigate this new reality, regardless of what it brings, because it's much safer. 
In a recent Instagram Live conversation with Jennifer Lopez about topics such as voting, the impact of the COVID-19 pandemic, and the legacy of late Supreme Court Justice Ruth Bader Ginsburg, Michelle Obama explained that Sasha and Malia Obama are in the process of remote learning and that it's admittedly different than what they're used to. "My girls are studying from home," she said. "We're itching to get back to campus, but things are just confusing … not quite safe."
Malia has started her fourth year at Harvard which shifted to remote learning back in March while Sasha has just kicked off her second year at the University of Michigan which offers both in-person learning and virtual instruction.
Obama knows that the temptation to hang out with friends on campus must be at an all time high, but even if emotions run high, she believes it's best for them to be at home. "I'm just glad that they're staying put, even if they're sick of me," she said. 
Obama's conversation with Lopez took part in the former first lady's National Voter Registration Day takeover on Instagram, which also featured appearances from Ayesha Curry, Zendaya, and more.