Deputies' Union Files Bar Complaint Against Attorney Ben Crump Over Racial Remark In Arrest Of Black Teen
The civil rights attorney refused to be intimidated and defended his right to speak on behalf of clients.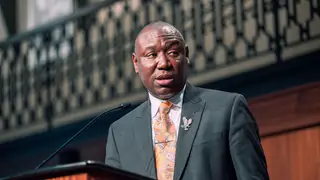 Civil rights attorney Ben Crump is being accused by a Florida law enforcement union of injecting race into a case involving sheriff's deputies caught on video slamming a Black teen's head to the pavement during a 2019 arrest.
The South Florida Sun-Sentinel reports that the union, which represents Broward County deputies, filed a bar complaint Thursday (July 28) against the lawyer who has been involved in numerous high-profile cases, including those of Michael Brown and Travon Martin.
According to the complaint, Crump has made "reckless and inflammatory" comments about the arrest of Delucca Rolle, who was 15 at the time. The union alleges that Crump brought up racial issues where none existed when he, for example, once referred to the encounter as an "outrageous brutality on an unarmed Black child."
Union officials said they want to see Crump and his co-counsel in the case, Sue-Ann Robinson, lose their law license.
Crump told the Sun-Sentinel that his remarks about the case is "a First Amendment issue," which constitutionally protects someone's speech.
"It's a blow to freedom and justice for police to threaten and intimidate civil-rights lawyers to try and stop them from making statements in defense of their clients," Crump said. "We will not allow these organizations to suppress the rightful expression of outrage by anyone — the Black community, the family, and least of all their lawyers. We will continue to say Delucca Rolle's name and advocate for change."
Meanwhile, a jury on Monday (July 25) acquitted former Broward Sheriff's Officer deputy Christopher Krickovich of battery charges, even though he was seen on video slamming Rolle's head on the pavement during the infamous arrest, the Miami Herald reported. The department fired him for the incident, but now he plans to get his job back through arbitration.
"Not one piece of evidence or testimony in this trial ever suggested racism was involved," the union's complaint stated. "Attorney Ben Crump's comments regarding race being a factor at the onset of this case was deplorable."
The union also took aim at Robinson, filing a similar bar complaint against her for comments she made about racism being a factor in the brutal arrest.
Like Crump, Robinson also stood by her words. "Bullying is what they do," she said, according to the Sun-Sentinel. "I'm sure the Florida Bar is well aware of my fitness."