Commentary: DC Election Proves It Ain't Over 'Til It's Over
D.C. Mayor Vincent C. Gray suffered a surprise defeat, proving how unpredictable politics can be.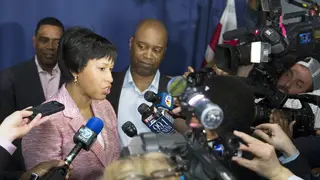 If anyone needs a case study on how quickly and dramatically political fortunes can change, there is a compelling lesson in Tuesday's Democratic primary in Washington, D.C.
Just weeks ago, the race seemed to be a sleepy affair with the incumbent mayor, Vincent C. Gray, comfortably in the lead. But the mayor, who four years ago defeated then-mayor Adrian Fenty, found himself defeated at the polls in a breathtaking upset by Muriel Bowser, a politically savvy member of the D.C. Council who didn't seem to be on the radar screen of the national media.
Bowser won with 44 percent of the vote in an eight-candidate race, with Gray earning 32 percent. What's even more fascinating is that Bowser won both the well-to-do western portion of Washington and showed strength in the majority Black neighborhoods in Washington's eastern sections — areas Gray carried four years ago.
What changed the scenario so quickly?
Gray's train to victory was derailed when federal prosecutors said that he benefited from more than $650,000 in spending from businessman Jeffrey E. Thompson.
Thompson is a major city contractor whose health-care organization did more than $300 million worth of work with the D.C. government every year.
Thompson pleaded guilty to conspiracy charges in federal court. While meeting with prosecutors, he implicated Gray, saying the mayor knew about and planned a shadow campaign in which secret money was spent but not reported.
Of course, Gray had been the topic of whispers around D.C. about some alleged misdeed or another virtually since the day he took office. And until the public statements by that federal prosecutor, most residents gave him the benefit of the doubt. But the accusations by the prosecutor caused things to unravel quickly.
As a sign of troubles to come, a respected chain of community newspapers took a fairly unprecedented step and withdrew its endorsement of Gray's reelection after the public statements of the federal prosecutor. It came after Gray had touted his endorsement by the Current newspapers, with the mayor saying that neighborhood newspapers such as that one "have their finger on the pulse of our communities."

Truer words have apparently not been spoken, at least not in a Washington mayoral campaign.
That was in March and it showed how that prosecutor's revelation completely reshaped the election. And it was a potent reminder of how elections can often hinge on the most unpredictable and unforeseen events. At the same time, it demonstrates again that it can be foolhardy to count a candidate out of the race and that a month can be a lifetime in politics. Still, this was an election result that was nothing short of stunning.
Even Bowser seemed to be somewhat shocked by her defeat of Gray.
She is now viewed as the front runner for the November election in the highly Democratic District of Columbia. Her most serious opponent in that general election is David A. Catania, another city council member.
But then, this is April and, as we have learned, anything can yet happen.
Follow Jonathan Hicks on Twitter: @HicksJonathan

The opinions expressed here do not necessarily reflect those of BET Networks.

BET Politics - Your source for the latest news, photos and videos illuminating key issues and personalities in African-American political life, plus commentary from some of our liveliest voices.  Click here to subscribe to our newsletter.  

(Photo: AP Photo/ Evan Vucci)