Raven-Symoné And Her Wife Miranda Pearman-Maday Share Intimate Details About Their Married Life
The lovebirds even dished on their first kiss.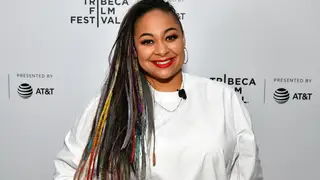 Seven months later, actress Raven-Symoné and her wife social media manager Miranda Pearman-Maday are still basking in the outpour of love they received from those who supported their union.  
For those who may not remember, it was back in June of 2020 when the multi-talented star surprised her Instagram fans with images from her intimate nuptials.
During their couple's interview, Miranda revealed intimate details about their married lifestyle. "Life is great ... but at the same time, it's wild," she shared about their relationship. "Married life and that whole world is wonderful and beautiful and, you know, we're having a great time."
Since taking their relationship to the next level, the pair have been quite busy. "We sold the house. We moved. We bought another place, and another place," Raven-Symoné revealed. "We're trying to set up a life so that eventually, we can sit and be old and get checks and decorating and finding crafts and projects for us to do on the work end and in our personal lives."
As for their first kiss, the lovebirds could not seem to agree about who initiated the smooch. "I honestly think it was 50-50," Miranda said, before Raven-Symoné added, "It just happened."
So cute! It is nice to see that the newlyweds are enjoying each other's time while they shelter in place together.