Mariah Carey And Pharrell Williams Will Be Inducted Into The Songwriters Hall Of Fame
The 2020 class was announced on Thursday.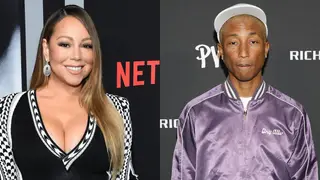 On Thursday (Jan. 16), the 2020 inductee class for the Songwriters Hall of Fame was unveiled on CBS This Morning.
CBS anchor Anthony Mason announced this year's impressive honorees who were lead by none other than legendary R&B/pop songstress Mariah Carey. The CBS special spotlighted Carey's record-breaking 19 No. 1 hits, which now includes her beloved Christmas classic "All I Want For Christmas Is You" after it went No. 1 in December of 2019. Mason also made note of MiMi's "stunning five-octave range." Previously, hip-hop great Missy Elliott made history as the first female rap artist to receive the accolade last year.

The pop culture icon was ecstatic at the joyous news and took to social media to express her heartfelt gratitude.

"I can't believe it... The SONGWRITERS HALL OF FAME!!!!" she gushed to her 21 million followers on Twitter. "This is truly one of the greatest honors of my career. I'm so proud and humbled to be in the company of such legendary songwriters - both previously inducted as well as the incredible class of 2020!"

Alongside Mariah, two other pop culture forces will be immortalized for their irrefutable impact on music: Pharrell Williams and Chad Hugo of The Neptunes and Motown icons the Isley Brothers. Unfortunately, Outkast fell short of making this year's shortlist. 

The Neptunes made the list for their culture-shifting sound and songwriting that altered music in the early 2000s with their contributions on hit records by St. Lunatics frontman Nelly ("Hot in Herre"), pop icon Britney Spears ("I'm a Slave 4 U") and R&B/pop singer Justin Timberlake ("Rock Your Body").

The CBS broadcast also highlighted the Isley Brothers expansive five-decade-long career that famously birthed cherished hits, including "Shout" and "It's Your Thing." Williams "Mickey" Stevenson, Eurythmics and Steve Miller were named among this year's honorees to be recognized with this momentous achievement as part of the Songwriters Hall's 2020 class as well. Songwriters become eligible "for induction 20 years after the first significant commercial release of a song," according to the Hall of Fame's website.

The institution's annual induction ceremony will take place at the Marquis Hotel in New York City on June 11.