Sylvester Stallone Leaves Out Two Important People From His Golden Globes Speech
The Creed star shades Ryan Coogler and Michael B. Jordan.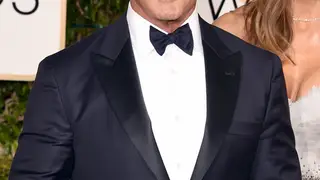 Sylvester Stallone thanked his agents, managers, his family, every person living and dead who was ever involved in the Rocky franchise during his Golden Globes acceptance speech tonight after he won Best Supporting Actor for Creed, but left out two big names: director Ryan Coogler and star Michael B. Jordan.
That's shady, Sly!
It was an awkward moment as the music kicked in and Sly prepared to leave the stage, and the camera landed on an expectant Coogler, who didn't appear to be recognized in the film icon's speech despite directing him in his first awards-worthy film in decades. Coogler and Jordan helped inject new life into the franchise, making it one of the biggest hits of the year.  
Los Angeles Times writer Amy Kaufman, however, swears that the slight was actually a technical gaffe:
Hopefully this doesn't mean the end of the rumored sequel!
Watch Michael B. Jordan sing Sly's praises in our exclusive interview, below. Hopefully Stallone will find the time to return the favor at the after-party!
BET.com is your No. 1 source for Black celebrity news, photos, exclusive videos and all the latest in the world of hip hop and R&B music.