Murs' Respect For E-40 Goes Beyond the Booth
Murs also discusses reconnecting with Jesse Shatkin on 'Have a Nice Life'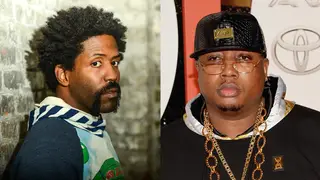 The concept of your lane is both delicate and often ambiguous in hip hop, and like driving on LA's infamous 405 freeway, successfully venturing outside of your own can be a struggle for the unseasoned navigator. 
As one of the West Coast's elder statesmen, Murs has always pushed boundaries and explored uncharted subsections of the genre with a sense of comfort and fluidity that has earned him a loyal and ever-expansive fan base. 
From his collaborative albums with ¡Mayday! and Atmosphere (under the moniker Felt) to his southern influenced Shut Your Trap mixtape, Strange Music's newest signee has embraced his musical malleability. But on his latest album, Have a Nice Life, which drops today (May 19) he came full circle, reconnecting with producer Jesse Shatkin for the first time since his rookie days.
"it's refreshing to reunite with someone you started your journey with," Murs told BET.com in an exclusive interview. "We've both made a lot of progress and just catching up was fun, and then to be able to come back together and create at a higher level is great. We're both way more skilled than we initially were, so knowing that he works with high caliber artists and I work with high caliber producers is a pleasure. Everything just runs smooth," he added. 
The reunion didn't stop there as Murs also reunited with King Fantastic (whose MC, Killer Reese One, was recently released from incarceration) on his latest single "Two Step." 
"He's always been one of my favorite rappers and I feel like we have a similar outlook and a similar energy," noted Murs. "We met up at Pann's on La Cienega and we were catching up and the s**t we were talking about came out in the first song me and Jesse recorded so I called him and said, 'I need you on this,' and he came through for me. [He] wanted to make sure that since he had to take a break for a couple years." 
Another notable collab on Have a Nice Life sees the Left Coast MC connecting with his idol-turned-friend E-40. Murs recounted meeting the Bay Area legend for the first time and how the relationship developed into a personal friendship.
"I have a friend Ian Davis who originally connected me with E-40. [40] charged me for the verse and he allowed me to come in the studio and pay him personally and he was everything I imagined," Murs remembered. "I sat in the car for a minute, composed myself and I came into the studio. He offered me some Gatorade mixed with Brandy, shook my hand weird, said a bunch of slang that I didn't understand, he was just him. It wasn't an act. He was just a real humble, down to earth dude. He told me, 'I really appreciate the way you were kickin' your feet on that one,' and I was like, 'What do you mean?' And the dude that was with him was like, 'He liked the verse you had on there,' he laughed. 
Murs considers DJ Quik, Shock G and E-40 his personal holy trinity of hip hop and he says with Earl Stevens that respect goes beyond the music.
"Just spending time with him writing, seeing his creative process how he interacts with his family and his kids, who are talented musicians in their own right, is amazing," Murs exclaimed. "A lot of people's children are a reflection of them and there are so many people's kids growing up in LA that are complete a**holes, and his kids are very grounded, humble, well spoken, well behaved and intelligent, so it was just something that I finally met a rapper that I could aspire to be, that has the kind of lifestyle that I want to have. I invited his family to my wedding 'cause I love them so much and it's not often you find that type of example in this type of game."

(Photos from left: Ray Tamarra/Getty Images, Jason Kempin/Getty Images for BET)