NYC Mayor Eric Adams Weighs In On Will Smith Slapping Chris Rock At The Oscars
'I think he had a bad day,' the former NYPD officer says.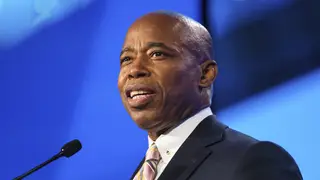 New York City Mayor Eric Adams sides with those who say Will Smith shouldn't lose his Best Actor Oscar for slapping comedian Chris Rock at the 2022 Academy Awards ceremony.
"Will Smith has been an amazing actor, humanitarian, he has been a real leader. I think he had a bad day," Adams said Wednesday (Mar. 30) on Fox5's Good Day New York. "I have bad days. …I don't want to be defined by 'hey, Eric you did something inappropriate, let's forget everything you have done.'"
The former NYPD police captain said if the assault happened in his city, he would leave it up to Rock to decide how to handle the situation.
"Violence is never the answer. It's a painful moment. This is the life we're in. They did a skit on me on Saturday night Live. I had to laugh with it," the mayor stated.
In case you missed it, the now Oscar-winning actor marched up to the stage and slapped Rock in the face while the comedian was presenting the Best Documentary award. Rock's joke about his wife Jada Pinkett Smith's shaved head prompted Smith's action.
Rock said, "Jada, I love you. 'G.I. Jane 2,' can't wait to see it."
Pinkett Smith has shared publicly that she has alopecia areata, an autoimmune disease that causes hair loss on the scalp and elsewhere.
"Sometimes when you're dealing with an illness in a loved one you become emotional and sometimes we have to think through our actions and not react through our passions,"  Adams said.
The King Richard actor posted a public apology on his Instagram page on Monday (Mar. 28) to Rock and The Academy for his actions.
"Violence in all of its forms is poisonous and destructive. My behavior at last night's Academy Awards was unacceptable and inexcusable," his statement said in part.
Meanwhile, the Academy of Motion Picture Arts and Sciences announced Wednesday (Mar. 30) that Smith refused to leave the ceremony when asked. The Academy said it has initiated disciplinary proceedings against Smith that could include "suspension, expulsion, or other sanctions."