EXCLUSIVE: Viola Davis Spends Nearly 2 Hours In A Bathtub Daily – Because Self-Care
She addresses how anxiety launched her addictive self-care routine.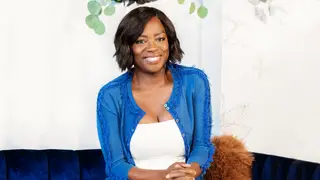 At 52 years old, Viola Davis spends "an hour and a half at least, sometimes a little bit more" soaking away in the tub every single day. I know this because she told me. I was invited by Vaseline to enjoy "A Day in the Life of Viola Davis" while also getting the chance to chop it up with the Oscar-nominated actress. Why Vaseline? Because Viola is old school and swears by the stuff, even when getting ready for the red carpet. When it comes to her beauty routine, she's a woman after my own heart, lathering herself from head-to-toe in lotions and serums when she steps out of the tub.
"I'm not a closet girl. A lot of women are always in their closets, but I'm at the bathroom so I have a fabulous one. I sit in the tub probably once a day, late at night, and I put in some Dr. Teal's Epsom Salt and then I sit in there and I soak forever. I have my water right there, I have my books and I soak," Viola says like it's the most regular, degular, shmegular thing in the world.
I haven't taken the time for an actual bath since I was maybe in was in elementary school. OK, maybe middle school. Showers, yes, but a bath? Nobody has time for that — or so I thought. The fact that the How to Get Away With Murder star, wife and mother makes it a point to take a dip in the tub on a daily basis is pretty impressive. Even if baths are your jam, I'm sure you don't take one every day, but maybe you should. Maybe that's exactly what we should all be doing because, as I sit there at the Waldorf Astoria in Beverly Hills in front of the Viola Davis, who is wearing a gorgeous white frock and looking calm, cool and collected with lights and cameras in her face and a morning of press ahead of her, she looks like how Zen feels. I continue to press her about all things self-care and find out that I've been going about this all wrong. You don't find the time, you make the time.
"My big thing is feeling relaxed, because I have gone through a period of feeling a lot of anxiety."
It turns out she's also a huge fan of steam showers, the sauna and the Jacuzzi. "I just love the way it makes me feel. As soon as I step out of that Jacuzzi or that steam room or that tub, I feel fabulous, I'm into feeling good. I always want to feel good," she gushes. She plays no games when it comes to this ritual. Even when she's working, no matter how early her call time is, she'll wake up at least two hours earlier and get her R&R in first thing in the morning.
"My big thing is feeling relaxed because I have gone through a period of feeling a lot of anxiety. Anxiety is crippling, especially when you don't know where it's coming from, until you realize where it's usually coming from is you holding onto something that you have to let go of. Almost always for me it was me feeling like everything was wrong. It was a constant inner dialogue like, 'Oh, my God, I gained an extra 10 pounds.' 'Oh, my God, I shouldn't have eaten that in the morning.' 'Aw, man, I said something wrong,' or 'Aw, man, I shouldn't have done that.' I would start my day like that, so I'd be starting my day with negativity. So now, for me, what works is to get into that tub and that steam shower and oil my skin and do my at-home facial and then my perfumes. I'm a little addicted."
Lately, Viola's been using Vaseline's brand new Intensive Care Cocoa Radiant Body Butter. "It has everything, 100 percent pure shea butter and cocoa butter, plus micro-droplets of Vaseline jelly. So it can do it all and that's one thing with my lotions. I want one thing that's going to do it all. I don't want to put something different on my elbows then something different on the rest of my body." She's the queen of glowing skin, but if her word doesn't sell you, then maybe its chocolaty scent and $5.98 price tag will.
She's not only practicing self-care, she's teaching it  to her 7-year-old daughter, Genesis, but it's not all skin deep. "I have her on the lotion on her knees routine, because she loves playing doggy, but that's as far as it goes with the physical [self-care] stuff. That, and to love her hair. But the big thing I do with my daughter that she's already getting a little sick of, is I'll ask her, 'What are the two most important parts of you?' and she says, 'My head and my heart, mommy. You keep saying that, but I know my head and my heart are important, mommy. I don't care what people think, mommy.'" Viola is also challenging her little lady early on not to be so hard on mommy, because the world is hard enough on mommies and women in general. She doesn't want Genesis to grow up feeling bad about herself, plus she gets her very own on-command positivity boost, "I'll tell her, 'Say something good about me, make mommy feel good right now.'"
She exercises more traditional parenting when it comes to rules like no makeup until Genesis turns 18 and no dating until ever. The main thing Viola is trying to get across to her daughter is to have the strongest sense of self, of her own identity, of her own authenticity before she's thrust out into the world. And she does a pristine job of practicing what she preaches. "My go-to mantra is 'Privilege of a lifetime is being who you are.' I say it all the time, I start my day with that. Especially being on TV doing what I do, being on those red carpets and sort of reinventing yourself as you pose, I can't do that. So, I have to feel like who I am is enough." Isn't that what we all want?
During my 24 hours living life Viola-style, I indulged in a Swedish massage followed by a steam, a wine and chocolate tasting, a decadent mood-lit dinner and — after catching up on HTGAWM — yes, a bath.