Byron Allen Makes $10 Billion Bid to Acquire ABC from Disney
The media mogul's offer centers on ABC's broadcast network as well as FX and National Geographic.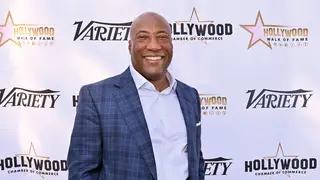 Byron Allen, the CEO of Allen Media Group, is looking to expand his television empire with a $10 billion dollar bid to acquire ABC, FX and National Geographic from Disney.
The move comes after news that the company is looking to shed what it considers "non-core assets" and make bigger gains in streaming.
"While we are open to considering a variety of strategic options for our linear businesses, at this time The Walt Disney Company has made no decision with respect to the divestiture of ABC or any other property and any report to that effect is unfounded," the statement reads.
In a July interview with CNBC, Disney CEO Bob Iger hinted at the future of the television side of the company: "We are expansive in our thinking about [the linear business], and we're going to look expansively … [for] opportunities there because, clearly, it's a business that's going to continue to struggle," Iger said.
A former television star and comedian, Allen's massive television portfolio includes The Weather Channel, Local Now and dozens of local television stations.
According to Yahoo News, Disney has potential plans to sell ABC and eight TV stations to Nexstar Media Group as reported by Bloomberg earlier this week, but the talks are described as "preliminary" in the reporting.