'Euphoria': DMX, Notorious B.I.G and Tupac Songs Featured In Season 2 Premiere Episode
The teen drama starring Emmy Award-winning actress Zendaya is back and even edgier than before.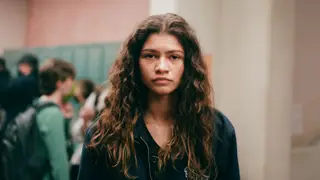 HBO's Euphoria is finally back and its Season 2 premiere created quite a buzz on Twitter with the return of Rue (played by Zendaya), Jules (played by Hunter Schafer), and the rest of the gang.
Aside from the edgy storyline that kicked off the episode titled, "Trying to Get to Heaven Before They Close the Door," which took place at a rowdy New Year's Eve party, BET would be remiss to not highlight some of hip hop/rap, R&B, Pop and EDM from Black artists that made their way into the episode as well.
Prior to the premiere of the highly-anticipated episode, Zendaya headed to her social media accounts to give her fans a much-needed trigger warning before they watched.
"I do want to reiterate to everyone that 'Euphoria' is for mature audiences," she wrote in an Instagram post. "This season, maybe even more so than the last, is deeply emotional and deals with subject matter that can be triggering and difficult to watch. Please only watch it if you feel comfortable."
In no particular order here are the episodic scenes + the tracks attached that took place in the latest Euphoria episode:
View the full Season 2 Episode 1 Euphoria playlist here
"Party Up In Here" by DMX

During the NYE turn-up, Maddy (played by Alexa Demie) and Travis (played by Demetrius Flenory) are seen dancing in the living room.

"Hit Em Up" by Tupac Shakur

While Fez (played by Angus Cloud) and Ashtray (Javon Walton) are driving to a drug deal, Zendaya's Rue can be heard rapping to Pac's song while sitting in the back of the car.

"Hypnotize" by The Notorious B.I.G

As the ladies of Euphoria head into the NYE bash, this classic hit is playing to get the party started.

"Nate Growing Up" by Labrinth

This original score isn't a rap, hip hop or R&B hit but EDM singer-songwriter Labrinth's orchestration of this song is played when Nate (played by Jacob Elordi) bumps into Cassie (played by Sydney Sweeney) at the convenience store. The pair have a conversation about their breakups.

"The Lake" by Labrinth

Another original score by Labrinth, this track is played during the New Year's Eve countdown.

"DIRT" By B.O.B

This song is heard when Cassie is hiding in the bathtub as the wild night continues to unravel.

"Runway" by Blaq Tuxedo

When Maddy is seen pounding on the bathroom door, not knowing Nate and Cassie are inside having sex, this cut by the Grammy-nominated producers is playing in the background.

"Uhuh Yeah" by G.L.A.M

At one point in the episode, Rue and Elliot (played by Dominic Fike) are in the laundry closet and Rue goes into cardiac arrest, this triggering scene is tied together with Cali rapper's lyrics.

"Madonna" by Tarik

As the drama continues to unfold Nate is seen questioning McKay (played by Algee Smith) about his conversation with Cassie, after making an assumption they got intimate.

"4,5,6" by Big Mali

Fez and Lexi (played by Maude Apatow) shared a few subtle flirtatious moments to which he asks her for her phone number to keep the conversation going.

"Back That Azz Up" by Juvenile, Lil Wayne, and Mannie Fresh

This is another classic track heard playing in the background of the New Year's Eve bash.

Be sure to catch the next episode of Euphoria Season 2 this Sunday at 9 p.m. ET on HBO Max.