Harold Perrineau Opens Up About His 'Lost' Departure
The veteran actor was axed from the popular series after six seasons.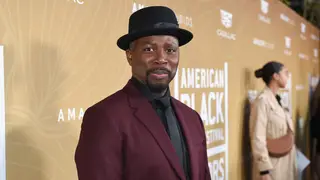 Harold Perrineau is setting the record straight behind his departure from the cult classic series, Lost.
As part of the new book Burn It Down: Power, Complicity, and a Call for Change in Hollywood, where Perrineau and other stars of the show have opened up about the alleged racism, offensive humor, and demeaning actions that showrunners Damon Lindelof and Carlton Cuse established on set. The actor also revealed why his character Michael Dawson was written out of the series.
After his son Walt gets kidnapped by the Others on the fictional island, and Michael is rescued by a con man named Sawyer, portrayed by Josh Holloway, Perrineau claims his character rarely brings up the topic of his son.
As season one went on, the actor said, "It became pretty clear that I was the Black guy. Daniel [Dae Kim] was the Asian guy. And then you had Jack and Kate and Sawyer," the latter three of whom are all white.
However, when he saw the original draft of the second episode of season two, "it was too much." "I don't think I can do that. I can't be another person who doesn't care about missing Black boys, even in the context of fiction, right? This is just furthering the narrative that nobody cares about Black boys, even Black fathers," the OZ alum said in an excerpt captured by Vanity Fair.
Perrineau said he joined the series after creators said they wanted to tell a story that "was really equitable" and gave each character their due. He was aware of the risk he'd be taking bringing up the topic of race, noting that "Any time you mention race, everybody gets—their hair gets on fire, and they're like, 'I'm not racist!'"
Still, he expressed his frustrations over the lack of depth written for his character compared to others, harping on the early promises of onscreen equity. "If you're going to use me, let's work. I'm here to work. I'm good at my job, and I'll do anything you want. Except be 'the Black guy' on your show," he explained.
Perrineau said he would ask for "more lines that show he cares about his son," and when his request was ignored, he ad-libbed them. "I didn't give a s**t at that point," he added. Ultimately change came, but Perrineau was forced to shoot several scenes in only two days while his co-stars were allotted several days for their scenes.
"It was 14-hour, 18-hour days. I was like, 'If you think I'm gonna f**k this up, I'm not. I'm gonna be really good.' But I felt like suddenly they were mad at me," he explained. Weeks later, his character was killed off.
According to the actor, Cuse told him, " 'Well, you said you don't have enough work here, so we're letting you go.'" Perrineau said, "It was all very much, 'How dare you?'"