First Black Artistic Director Of Louis Vuitton Men's Wear Virgil Abloh Dies At 41
The Off-White founder's family announced his death after a two-year battle with a rare form of cancer.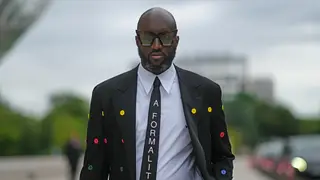 American designer Virgil Abloh died Sunday (Nov. 28) after privately battling a rare form of cancer for the last two years.
A statement was posted to Abloh's Instagram page reporting the tragic news, stating that the Off-White founder chose to handle his diagnosis of cardiac angiosarcoma (a tumor impacting blood flow to and from the heart) privately after initially finding out in 2019.
"We are devastated to announce the passing of our beloved Virgil Abloh, a fiercely devoted father, husband, son, brother, and friend," the IG post read. " He is survived by his loving wife Shannon Abloh, his children Lowe Abloh and Grey Abloh, his sister Edwina Abloh, his parents Nee and Eunice Abloh, and numerous dear friends and colleagues."
The post continued with words from his wife saying, "He often said, 'everything I do is for the 17-year-old version of myself."
Aside from being the Chief Executive Officer of his own label, Off-White, Abloh was also the first Black man to be named creative director for Louis Vuitton's men's fashion collection. In addition to being a transformational creative force in the fashion world, Abloh was also a creative force on the turntables as a DJ and as a furniture designer. 
His creativity and vision were endless.  The New York Times wrote of him saying "Abloh transformed not just what consumers wanted to wear, bridging hypebeast culture and the luxury world, but what brands wanted in a designer — and the meaning of 'fashion' itself."
CEO of Louis Vuitton, Benard Arnault, shared the following statement:
"We are all shocked by this terrible news. Virgil was not only a genius designer and a visionary, he was also a man with a beautiful soul and great wisdom. The LVMH family joins me in this moment of great sorrow and we are all thinking of his loved ones on the passing of their husband, father, brother, son and friend."
Born to Ghanaian immigrant parents, Abloh grew up in Rockford, Ill. and was greatly influenced by hip hop and skate culture. He went on to receive his undergraduate degree in civil engineering from University of Wisconsin-Madison and a master's degree in architecture from the Illinois Institute of Technology. He had no formal training in fashion, but what he didn't know from the trade, he learned at home watching his mother, who worked as a seamstress. 
At 22, Abloh met Kanye West and joined his creative team. It was West who became instrumental in Abloh's introduction to Louis Vuitton. They would eventually intern together for six months at Fendi, allowing them both to understand the fashion world from a product and production point of view outside of their consumer knowledge. It was the beginning of an amazing collaborative relationship that had Abloh, most recently, designing the stage for West and JAY-Z's "Watch the Throne Tour." 
On the day Abloh's death was announced, West dedicated his choir's Sunday Service in "loving memory" of Virgil Abloh.