Blac Chyna Is Reportedly Planning To Hit Rob Where In Hurts With 'Explosive' Clapback
This sounds ominous AF.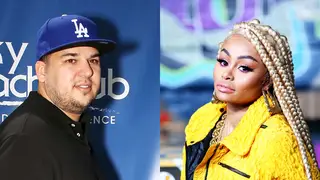 Blac Chyna and Rob Kardashian's beef seems never-ending as the model is reportedly set to seek revenge against her ex in an "explosive" countersuit.
According to Radar Online, Chyna is set to take legal action against Rob on the heels of him accusing her of abusing drugs and alcohol and claims that she tried to strangle him with an iPhone cord.
"Chyna hired a team of lawyers to help her fight back against Rob," a source told the publication. "He's rich, with all of the Kardashian money, but she knows his secrets, and now she's not going to keep them... She's going to file an explosive counter lawsuit for millions that will expose all of Rob's lies."
The former stripper is reportedly strategically waiting until October 27 to make her move, which stands as the one month mark after Rob's lawsuit against her. She allegedly wants to make sure she has everything in order before she strikes.
"Chyna is garthering all of her evidence, making sure her story is solid and better than the one that Rob told," the source continued. "She's going to wait until the end of the deadline to file her suit. She has about three more weeks... She is going to stick it to Rob twice. She will file a response, and her own lawsuit. This will get ugly."
Get more news on the two with BET Breaks, above.