E. Lynn Harris' Invisible Life Is Coming to the Stage
The best-selling novel opens at the Apollo Theater tonight.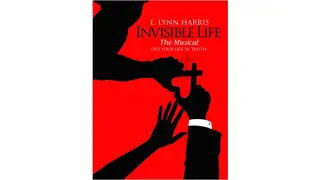 In celebration of both LGBT pride month, New York Times best-selling author E. Lynn Harris' classic novel Invisible Life — which celebrates its 20th publishing anniversary this month — is being taken to the Apollo stage. Invisible Life, the Musical opens at the Apollo Theater today, June 25 for a six-day run.
The novel, which has become a staple reference for Black gay men, tackles the "conflicts of sexuality, religion, HIV/AIDS and family in America." Harris, who died on July 23, 2009, was deemed the trailblazer of gay Black fiction and tackled serious issues within the LGBT community in his novels.
In Invisible Life, in particular, the protagonist, a college football player is found in a conundrum after he is seduced into a "down-low" romance by a celebrity quarterback. Though Harris has passed, the musical adaptation of Invisible Life will be in familiar hands. Proteus Spann, the sole owner of the Intellectual Property rights to Harris' catalogue will co-direct the project along with Javon Johnson, a protégé of Tony Award and Pulitzer Award playwright August Wilson. Philanthropist Reginald Van Lee will executive produce the musical with Motown legends Ashford and Simpson providing the music and lyrics and e'Marcus Harper serving as the musical director.
With such an expereinced team and necessary vision, it's pretty safe to say that this is definitely something you don't want to miss. So, get your tickets now, here. They're only $22 a pop!
To hold you off until then, continue celebrating LGBT Pride Month by watching our BET.com exclusive interview with Jason Collins, below:
BET.com is your #1 source for Black celebrity news, photos, exclusive videos and all the latest in the world of hip hop and R&B music.
(Photo: (c) Playbill Online Inc)