Lack Of PrEP Usage Among Black And Latino Men Is Putting Them At A Higher Risk For HIV
Preventive measures aren't recommended at the same rate for people of color.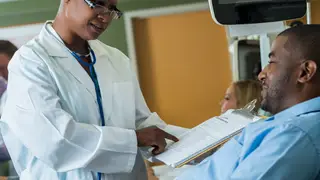 The HIV epidemic is a silent killer disproportionately affecting men of color at alarming rates. Research shows that Black and Latino men are impacted by HIV in ways their white counterparts do not face.
Due to increased technological advancements within the medical industry, people now have the access to preventative medication, and the awareness of PrEP or "preexposure prophylaxis" is common knowledge among men who have sex with men. This leads to the question that research aims to answer; "What causes the unequal usage of preventative measures?"
Dafna Kanny, study leader of the CDC's Division of HIV/AIDS Prevention, evaluated interviews with over 4,000 men who participated in a 2017 HIV Behavioral Surveillance Survey. Kanny used the study to better gage who is using PrEP and why some aren't using it.
Information provided by the CDC states approximately 50% of Black men, and 25% of Latin men who have sex with men (MSM) will contract HIV in their lifetime while that rate remains at about 12.5% for white men.
According to NBC, research suggests the discrepancy occurs with health care providers. Studies show PrEP is 99% effective in preventing HIV transmission, but physicians are not prescribing and providing Black and Latino men access to the medication.
Kanny's study uncovered about 95% of white men, 87% of Latino men, and 43% of Black men said they were knowledgeable about PrEP Although, these statistics seem high, only 58% of white, 44% of Latino, and 43% of Black men said they discussed the preventative medication with a physician.
Research reveals physicians are necessary to bridging the gap of unequal PrEP usage. Reuters Health reports Kanny stated: "This type of research is critical to finding—and correcting — missed opportunities to offer PrEP to people at risk of HIV, particularly among African American and Latin gay and bisexual men."
Brandon Marshall of Brown University School of Public Health lists one of the reasons physicians aren't discussing and providing minority men with PrEP is because they believe it will lead to risky sexual behavior.
The need to address these racial disparities are pivotal, according to Kanny "If we continue to see these disparities, HIV infections will likely continue to grow. Our goals to end the epidemic will be out of our grasp."