Tupac's Godfather Geronimo Pratt Dead at 63
The renowned Black Panther was a respected figure to many hip hop stars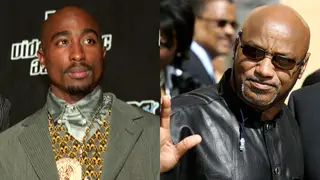 Elmer "Geronimo" Pratt, a former high ranking member of the Black Panthers who served 27 years in prison after being wrongfully convicted of murder, passed away late Thursday (June 2), according to reports. The exact cause of death is unknown.
Pratt, who served in the Vietnam War and was a minister of defense for the Black Panthers in the 1960s, was a target of the FBI under J. Edgar Hoover and President Richard Nixon's largely illegal counter intelligence program COINTELPRO. He was accused of the kidnapping and murder of a 27-year-old elementary school teacher named Caroline Olsen, and in 1970 was sentenced to life in prison.
But in 1997, a California appellate court vacated Pratt's conviction and released him from prison after efforts by his attorneys—Stuart Hanlon and the late Johnnie Cochran—as well as civil rights groups that revealed that the chief witness against Pratt was an informant planted by the FBI. He was eventually awarded a $4.5 million settlement from both the state of California and the U.S. government.
Pratt's plight made him an icon, not only in civil rights' circles, but also among hip hop figures. He is often a reference point for politically minded rappers, and was famously the godfather of Tupac Shakur.
"Tupac, to me, was this beautiful little boy that used to climb all over me that was so full of energy," he once said in a 2003 interview with Allhiphop.com
After 27 years behind bars, eight of which he said were in solitary confinement, Pratt wasn't bitter, but magnanimous and full-hearted.
"I have no bitterness in my heart ... it eats you up inside," Pratt said.
He would later leave the United States for a quiet life with his wife and child in the African nation of Tanzania, where his former lawyer says he was living when he died.
A victim of corrupt government practices during a tumultuous political era, Pratt became an advocate for criminal justice reform, speaking out on behalf of other wrongfully convicted prisoners in a press conference after he was released from jail.
''You have political prisoners on top of political prisoners,'' he said. ''I'm only one of a great many that should be addressed.''
(Photos, from left: REUTERS/Mike Segar/Landov,  Frazer Harrison/Getty Images)