White House: States Must Adequately Fund Land-Grant HBCUs Owed Nearly $13 Billion
A federal analysis found longstanding disparities in state funding between HBCUs and predominantly White universities.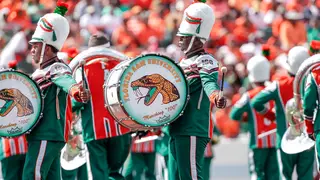 The Biden administration urged 16 governors to correct decades of underfunding historically Black land-grant colleges and universities totaling more than $12 billion, The Washington Post reports. At the same time, state lawmakers have adequately funded predominantly White land-grant institutions.
"Unacceptable funding inequities have forced many of our nation's distinguished historically Black colleges and universities to operate with inadequate resources and delay critical investments in everything from campus infrastructure to research and development to student support services," Education Secretary Miguel Cardona said.
Cardona and Agriculture Secretary Tom Vilsack sent joint letters Monday (Sept. 18) to the governors of Alabama, Arkansas, Florida, Georgia, Kentucky, Louisiana, Maryland, Mississippi, Missouri, North Carolina, Oklahoma, South Carolina, Tennessee, Texas, Virginia and West Virginia.
Federal support for public higher education started with the passage of the 1862 Morrill Act, according to the National Education Association. President Abraham Lincoln signed the legislation that provided each state with 30,000 acres of public land, which the states could sell to fund the creation of new public colleges or expand an existing institution.
State governments used the federal investment to fund state universities that served White students and HBCUs when Jim Crow laws outlawed educating Black and White students together.
Federal law requires states to distribute funding equitably to all land-grant universities. But National Center for Education Statistics data shows they have underfunded HBCUs for decades. The education and agriculture departments say states have shortchanged HBCUs by roughly $12.6 billion between 1987 and 2020.
The federal analysis found that Tennessee State and North Carolina A&T account for the most significant disparities in state funding, with each underfunded by about $2 billion over 33 years. Florida has a $1.9 billion gap in total state appropriations per student between Florida A&M University and the University of Florida, the state's two land-grant universities.
HBCUs have long complained about the funding disparities, and some have turned to the courts to close the funding gap.
In 2021, Maryland settled a $577 million federal lawsuit over its underfunding of four HBCUs. Maryland's dispute with the institutions – Morgan State University, Coppin State University, Bowie State University and the University of Maryland Eastern Shore – dragged on for 15 years.
"To compete in the 21st century, we need state leaders to step up and live up to their legally required obligations to our historically Black land-grant institutions," Cardona said.