Georgia Senate Candidate Herschel Walker Suggests Evolution Isn't Real Because Apes Still Exist
The former football star tapped into a common myth about evolution theory while campaigning at a church.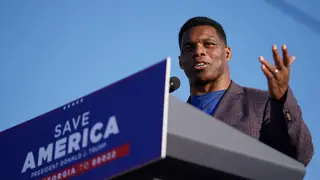 Herschel Walker, a Republican running for the U.S. Senate, shared a common myth Sunday (March 13) about the theory of evolution while campaigning at a church in Georgia.
"At one time, science said man came from apes, did it not? ... If that is true, why are there still apes? Think about it," the Trump-backed candidate said.
In the video clip below, Walker expresses his belief in the literal creation of life found in the Bible while denouncing the theory of evolution–which he got wrong.
It's unclear if the former college and professional football star misunderstands the theory of evolution or if he intentionally got it wrong to connect with potential voters in the congregation.
"Now you're getting too smart for us, Herschel," Allen said when the candidate questioned evolution science by pointing out the coexistence of humans and apes.
In fact, the theory of evolution does not say that humans evolved from apes, John van Wyhe, a Cambridge University science historian, has written in The Guardian.
"[Charles] Darwin said that monkeys, apes and humans must have a common ancestor because of our great similarities compared to other species," he explained, dispelling the myth. That common ancestor became extinct roughly 10,000 years ago.
Many people took to social media to lampoon Walker.
Walker is trying to win the GOP nomination to challenge Georgia's Democratic Sen. Raphael Warnock in November. According to the Associated Press, Walker is currently leading the field of Republican candidates for the May 24 party primaries despite reports that his ex-wife and a former girlfriend accused him of making violent threats toward them.
In January 2021, Warnock won a stunning run-off election victory in the Republican-dominated state. The senior pastor at Ebenezer Baptist Church made history as the eleventh Black Senator and first Black Democrat ever elected from the South.