Jamie Foxx Hospitalized After Suffering Medical Emergency
The actor's daughter, Corinne Foxx, released a statement sharing the news.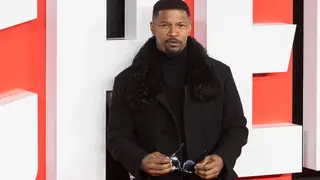 Acclaimed actor Jamie Foxx is on the path to recovery after experiencing a health setback, as reported by his daughter, Corinne Foxx.
On April 12, Corinne, representing the Foxx family, took to Instagram to provide an update on her father's current health situation, while also touching on his recent career accomplishments.
"We wanted to share that, my father, Jamie Foxx, experienced a medical complication yesterday, (April 11)," the statement reads. "Luckily, due to quick action and great care, he is already on his way to recovery."
"We know how beloved he is and appreciate your prayers. The family asks for privacy during this time," she continued.
The Oscar-winning actor has enjoyed a thriving career in both film and music. Most recently, he starred in the critically acclaimed movie Soul and the action-packed thriller Project Power. Most recently Foxx was filming a movie in Atlanta with Glenn Close and Cameron Diaz, called Back in Action.