Transportation Sec. Pete Buttigieg Presents $10M Grant to Howard For Important Research
As part of the Biden Admnistration's infrastructure bill, the grant will go toward addressing systemic racism in transportation.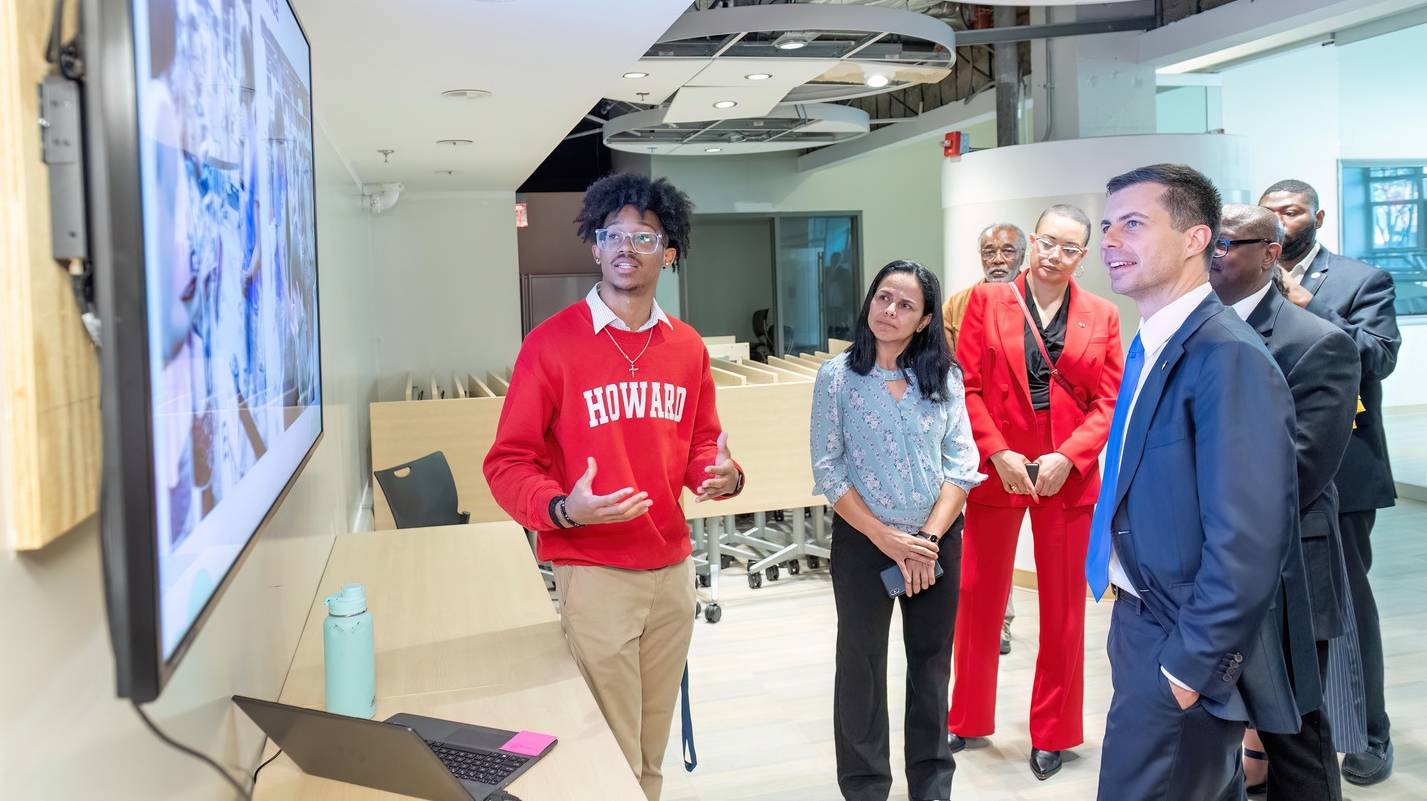 U.S. Transportation Secretary Pete Buttigieg visited Howard University on Tuesday (April 18) to highlight the Department of Transportation's $10 million grant to the university to support its ongoing research in transportation safety and help build a pipeline of transportation leaders.

"Federal policy can always be part of the problem or part of the solution," Buttigieg told BET.com. "We want to make sure it's part of the solution. We're going to be able to take steps that make no one worse off and more people better off than before."

For the secretary, that starts with properly diagnosing the issue. Systemic racism has penetrated every aspect of American life, transportation has been no exception. Buttigieg says simply earmarking hundreds of millions of dollars to infrastructure research and construction won't undue decades of systemic racism without making sure those dollars go to communities that have historically been shut out.
"We know we're creating a generation of good paying jobs with this infrastructure bill," Buttigieg added. "But we have to make sure everyone has an opportunity to participate. Whether we're talking about PhD engineers or union construction jobs, those doors have not always been open to Americans of color. That's why partnering with HBCUs is so important."
The award will be distributed over the course of five years. In addition to student recruitment efforts that will start at the middle school level, Howard will have a hand in researching education tactics that reduce impaired or distracted driving, reducing bias in traffic enforcement and creating safer city streets.
"For a very long time, we haven't had opportunities to be part of this program," said Dr. Stephen Ahrin, Director of Howard University's Transportation Center. "This time we're leading."
The funding allocated to Howard's College of Engineering and Architecture comes from the trillion dollar bipartisan infrastructure package championed by President Joe Biden that was signed into law last year.
"It's really important for Black and brown students to see someone that looks like them in these [transportation] positions," said Dequane Nealy, junior electrical engineering major at the university.
While students like Nealy will get an open door to the jobs of the future, recent graduates and experienced workers will have an opportunity to build wealth today. Tackling racism and inequity in every sector of the federal government has been a priority of the Biden-Harris Administration and it's a priority for Secretary Buttigieg's Department of Transportation.
Prairie View A&M, Morgan State, North Carolina A&T, and Florida A&M universities also received funding.
As diversity and inclusion issues remain front and center in debates about employment, Buttigieg also recognizes that simply building the pipelines is not enough if opportunities to apply skills learned in the classroom or on the job don't open doors for career advancement. Dollars allocated for infrastructure projects from the bipartisan bill don't come without strings.

Buttigieg mentions project labor agreements that help ensure local small businesses don't get crowded out by giant corporations and the department's responsibility in getting the word out about job openings and contract opportunities.
He recalls meeting construction workers that came through the Hire LAX program nearly 3,000 miles away in Los Angeles. The apprenticeship program offers applicants who live in the same zip code as the airport the opportunity to work on airport improvement.
"I saw how their lives are transformed. They're gonna be thriving and owning homes and paying taxes in ways that will make them more a credit to their community than ever. It lifts the community up. That's the story behind our infrastructure decade. It's the lives that'll be changed if we do it right."
Diversifying the infrastructure workforce is only half the battle in doing it right. This once in a generation opportunity also provides a chance to rebuild communities of color, creating safer roadways.
More than 46,000 people were killed in auto accidents last year, a sobering stat that Buttigieg wants to address.
"Look at the numbers," he stated. "Some Americans are experiencing negative safety impacts more than others. I wouldn't be doing my job if I ignored that. If you look at the rise in roadway deaths, we see that rural, tribal, Black and brown Americans are more likely to be part of those statistics. That requires intention and intentionality. And the most important thing is we can do something about it.
"The country is rightly up in arms about railway accidents and would rightly be up in arms if there was anything near this level of death and destruction on airlines, we are strangely accustomed to 40,000 people dying every year on our roadways. We think of it as inevitable and it's not," he continued.
That's where the partnership with Howard and other universities plays a crucial role, according to Dr. Wayne Frederick, the university's president.
"Our DNA is social justice," Frederick says of Howard's history. "Closing disparities anywhere they exist is important. Whether it's health or preventable deaths from roadway accidents, we want to participate in improving life expectancy."
That partnership will inevitably play a part in how Buttigieg is remembered as a secretary and the legacy of the Biden-Harris administration overall.
"If we succeed we'll have reversed the rise of roadway deaths," Buttigieg begins on how he hopes this chapter in history will be written. "We'll have contributed materially to wealth creation in this country so future economic historians can look back and say one of the reasons the wealth gap started to close in the 2020s was there was a lot of intention in how infrastructure dollars are spent. And that we modernized our transportation in a way that was better, safer, cleaner, more useful and more equitable than what we inherited."