Toya Wright Speaks Out on Rumors That Lil Wayne Is Still in Love With Her
Plus, she spills the tea on her relationship with Memphitz.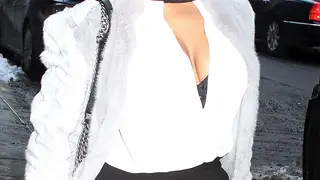 Ever since Toya Wright released the love letters and text messages she was getting from Lil Wayne while the rapper was in prison, fans have been wondering if the reality star and her first love would be getting back together.
Well, Toya appeared on Bossip's Don't Be Scared podcast to clarify both her relationship with Wayne, and her ex-husband, Memphitz (their divorce was finalized just a couple of months ago), and her answers might surprise you.
Asked about her decision to share the intimate messages she got from Wayne, Toya said, "I just felt like if I was going to open up like this, then I was willing to share my real life. He has talked about me and discussed me in songs before. I decided to share our relationship because people always ask about it."
Responding to the now constant question about whether Wayne is still in love with her, she says, "You gonna have to be the judge of that. One thing about Wayne and I we been knowing each other since we were kids. We came across this point in life where we didn't like each other at all. When I was going through the divorce from Wayne I hated him a lil bit. […] I'm just not that girl. I wouldn't write a tell-all to bash them. I'd share it but I wouldn't do it in a way to bash them and make them look crazy, I'll give you the tea with a little honey."
Sounds pretty coy to us! Maybe now that they're single (as far as we know) these two will give love another chance.
Speaking of being single, Toya also dished about her ex, Memphitz, saying they've actually come to be in a good place despite their drama on Marriage Boot Camp. "To know me is to love me, I don't hate nobody. I don't have no ill feelings," she says. "I don't really have nothing to this day negative to say about Memphitz. […] Anybody I've ever dated I still talk to — it wasn't me!" 
See her full interview below:
See how Weezy and Toya reconnected after the tragic death of her brothers with BET Breaks, above.