Chanel West Coast Got Dragged All Over The Internet For Comparing Herself To Drake and Kanye
Whoa there...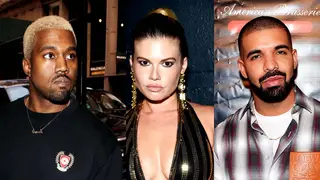 Even we've got to admit it: Love & Hip Hop Hollywood has some of the wildest moments this generation of television has ever seen on the small screen.
But between the drink-throwing, fist-fighting, name-calling, back-turning and every other scandal, nothing quite compares to a jaw-dropping statement from one of the show's newest cast additions, Chanel West Coast. On the latest episode, the Ridiculousness host compared herself to the likes of two of music's most gifted icons, Drake and Kanye West, in an attempt to boost her rap career street cred.
Such top-tier comparisons made by Chanel weren't the smartest comments to make on national television, however. The entire internet took no mercy in knocking her off her self-proclaimed hip-hop high horse.
Charlamagne gave listeners a comprehensive overview of her 'mayonnaise music' and the situation that landed Chanel as the butt of the internet's ruthless dragging and a shiny, new 'Donkey Of The Day' badge

She apparently caught wind and immediately denied that she ever made such claims – Oh, and not to mention her middle finger for the 'haters' and a promotion of the 'most fire song ever' that she was dropping soon

Well, we never quite got that heat she planned to unleash; What she got, however, was a slice of humble pie served up by industry producer A1 and Charlamagne, who reminded her of how quickly the internet will humble her as well

And, boy, was he right about that…