This Day in Black History: Jan. 20, 1961
Mahalia Jackson performed at President John F. Kennedy's inaugural ball on Jan. 20, 1961.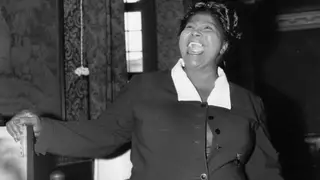 Jackson was born on Oct. 26, 1911, and was the third of six children. Her mother died when she was six and her father, the New York Times reported, had three jobs: "longshoreman by day, a barber at night and a clergyman on Sunday." Jackson had to leave school while in the eighth grade to work as a domestic servant.
Poverty didn't stop her from finding her voice. Jackson began singing at age four at Mount Moriah Baptist Church. When she moved to Chicago as a teen, she joined  a group called the Johnson Gospel Singers and later worked with a gospel composer named Thomas Dorsey.
Her first big hit came with "Move On Up a Little Higher" in 1947, which was the highest selling gospel single in history. By the time Jackson, who became an active supporter of the civil rights movement, performed for Kennedy, she had achieved international acclaim, performing on radio, television and film.
Jackson's final performance was at a concert in Munich, Germany, in 1971. She died of a heart attack the following year in Evergreen Park, Illinois, at age 60.
BET National News - Keep up to date with breaking news stories from around the nation, including headlines from the hip hop and entertainment world. Click here to subscribe to our newsletter. 
(Photo: Douglas Miller/Keystone/Getty Images)