'Full Of Lies': Dr. Don Shirley's Family Passionately Sounds Off On The "Green Book" Movie
"[Dr. Shirley] had definitely eaten fried chicken before" meeting Tony Lip.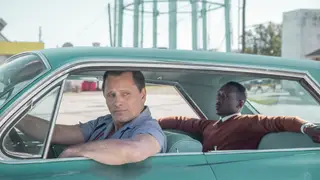 Another day, another way white people have found a way to distort a Black man's legacy on the big screens—well, that's according to the family of Black music prodigy, Dr. Don Shirley, who feel as though their loved one's image was wrongly portrayed in an upcoming Peter Farrelly film, Green Book.
Set hit theaters this holiday weekend (Nov. 21), the movie supposedly tells the story of Tony Lip, a racist white New Yorker played by Viggo Mortensen, who is hired to drive Dr. Don Shirley, a Black pianist played by Mahershala Ali, on tour through the Jim Crow south. 
The movie practically paints Dr. Shirley as a Black man who was estranged from his family and the Black experience, who is in need of Lip to find love for Black pop music, to teach him how to eat fried chicken, and ultimately help him find his way back to the Black community.
According to Peter Farrelly and Nick Vallelonga,  Lip's son who is a co-writer of the film, the story is true and recounts his father's side of the story.
"Everything in the film is true," Vallelonga shared with NBC Nightly News. "The only creative license we took was combining some stories, time-wise, what happened in this state might have happened in another state. But everything was true, and that was really important to me and Pete the director, that we told the truth." 
"[Maurice Shirley] says he refuses to see the film because it is, in his words, 'full of lies,'" the show's host Joshua Johnson shared after speaking to Dr. Shirley's younger and last living 86-year-old brother, Maurice Shirley, before the show aired.  
"He also said that, unlike in the film, Dr. Shirley was not estranged from his family or the Black community. He says [Dr. Shirley] had definitely eaten fried chicken before," meeting Tony Lip.
Carol Shirley Kimble, a niece, also left a voicemail for producers of the show to set the record straight: 
"My name is Carol Shirley Kimble. I'm the niece of Don Shirley, supposedly the subject of the movie The Green Book," she said. 
"There was no due diligence done to afford my family and my deceased uncle the respect of properly representing him, his legacy, his worth and the excellence in which he operated and the excellence in which he lived. It's once again a depiction of a white man's version of a Black man's life. My uncle was an incredibly proud man and an incredibly accomplished man, as are the majority of people in my family. and to depict him as less than, and to depict him and take away from him and make the story about a hero of a white man for this incredibly accomplished Black man is insulting at best." 
"The main issues for me with Green Book are that it centers a white man's experience in what should have been, according to the title, a Black story; and it misrepresents the (Negro Motorist) Green Book and it misrepresents Dr. Shirley. So, whether audiences would enjoy the film should be secondary to questions of whether this film harms Dr. Shirley's legacy, whether it harms his living family members, and whether it harms Black people as a whole." 
She continued, "I think to consistently see our stories and our Black icons filtered through the lens of a racist white person like Tony Lip does nothing to advance the understanding of Black history and only serves to perpetuate white supremacy."