Bobbi Kristina's Autopsy Results to Be Released Today
The mystery surrounding her tragic death could be solved.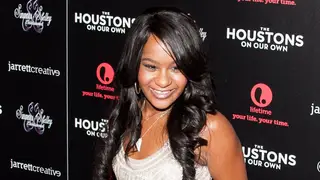 It's been six months since Bobbi Kristina Brown passed away and over a year since she was found unconscious in her bathtub, and we are about to find out exactly what happened to Whitney Houston's daughter just before she slipped into a coma from which she never awoke.
A superior court judge has granted a motion made by Atlanta news station 11Alive to unseal the autopsy report for Bobbi Kristina Brown. The report will be released today (Thursday), according to court documents.
The move reverses the decision of the court last September to keep Bobbi Kristina's cause of death under wraps. At the time, the court mandated that "the autopsy report, all related investigative reports, all related toxicology reports, the death certificate and any other documents used and/or created by the Medical Examiner's Office regarding the autopsy of Bobbi Kristina Brown" remain sealed.
It's not immediately clear how and if this will affect the ongoing investigation into Bobbi Kristina's boyfriend Nick Gordon, who has remained a "person of interest" since the 22-year-old music scion was first found. Gordon also faces a civil wrongful death lawsuit from Bedelia Hargrove, an attorney who represents Bobbi Kristina's estate. Among the things Hargrove accused Gordon of are poisoning Bobbi Kristina with a "toxic cocktail" of drugs and inflicting traumatic physical abuse the night before she was found unconscious. The autopsy results should provide some conclusive answers as to what Bobbi Kristina suffered in her final days.
Watch BET Breaks below for a heartbreaking recap of the abuse she allegedly suffered just before her death:
BET.com is your No. 1 source for Black celebrity news, photos, exclusive videos and all the latest in the world of hip hop and R&B music.