Respond React: Mahershala Ali's 'Green Book' Unpacks The Intersection Of Race And Class In 1960s South
But something is missing in this trailer.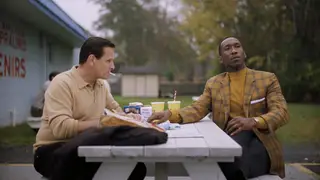 It's amazing to me how many untold stories of race relations in America are still yet to be told. In Dreamworks latest film Green Book, the dangers of simply driving—or being driven—as a Black person in this country are put on full display. If you thought the need for Black Americans to plot out safe passage through the South ended with Harriet Tubman's Underground Railroad, you'd be wrong. The Green Book was a guide created by Black motorists and travelers as a guide to hotels, restaurants and other establishments that would be hospitable to Blacks along the eastern sea board during Jim Crow.
"First published in 1936, the Green Book was the brainchild of a Harlem-based postal carrier named Victor Hugo Green. Like most Africans Americans in the mid-20th century, Green had grown weary of the discrimination blacks faced whenever they ventured outside their neighborhoods." [History.com]
Starring Mahershala Ali as pianist Dr. Don Shirley and Viggo Mortensen as his driver Tony Lip, Green Book explores the intersection of race and class that challenges the stereotypes of both.
"When Tony Lip (Mortensen), a bouncer from an Italian-American neighborhood in the Bronx, is hired to drive Dr. Don Shirley (Ali), a world-class Black pianist, on a concert tour from Manhattan to the Deep South, they must rely on 'The Green Book' to guide them to the few establishments that were then safe for African-Americans. Confronted with racism, danger as well as unexpected humanity and humor—they are forced to set aside differences to survive and thrive on the journey of a lifetime."
I know what you're thinking. When you see Viggo Morgensen driving around Mahershala Ali in the 1960s, your gut reaction is: This is 'Driving Miss Daisy' in reverse! But after watching the trailer, it's a little deeper than that.
In the opening sequence we see Mahershala looking majestic, challenging not just the notion of what kind of doctor there can be ("I'm not a medical doctor, I'm a musician, and I'm about to embark on a concert tour through the Deep South"), but what color he can be.
Seconds later this odd couple is driving along and Tony is scarfing down a bucket of what else: fried chicken. The doctor is not amused as he makes it clear: "I've never had fried chicken in my life." To which Tony replies, "You people love the fried chicken." The doctor let's him know that he has a very "narrow" view of his people.
Then the doctor expresses to Tony--native New Yorker--that his diction may not fit in with the class of people that he will be performing for, and Tony pushes back like a taller Joe Pesci: "Why are you breaking my balls?" To which the Shirley answers, "Because you can do better."
Green Book isn't content to rely on Tony being reduced to an uncouth palooka. He writes letters home to his wife from the road and gets some coaching from the doctor on how to be more eloquent. While this is straight out of the "Black folk teaching white folk how to be better people," trope, it's interesting to see. 
As expected, the manure hits the gilded fan as Dr. Shirley and Tony confront the inevitable racism and violence that comes with their journey. In a poignant moment of frustration Shirley yells, "If I'm not Black enough and I'm not white enough, then tell me what am I?"
Obviously it's hard to glean the totality of a film from a trailer, but one thing does stick out. For a film that seems to deal so heavily with race and class, gender is glaringly absent. We know that Tony has a family, but what of the doctor? Is there anyone at home waiting for him, worried about his safety? And with so much discussion of how he feels about his people, why are his people so absent from this film, particularly the Black women?
We hope these questions are answered when we finally see Green Book on November 21.