Faizon Love Clowns Aries Spears For His Comments Towards Lizzo
He also praises the "Truth Hurts" singer for her versatility and talents.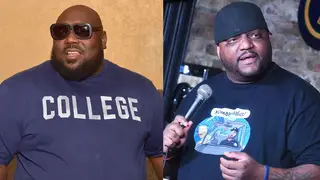 Faizon Love chimed in on Aries Spears' comments towards Lizzo and called Spears' comments "stupid" during an interview with The Art Of Dialogue — the same platform where the controversial commentary was shared.
During the interview, Love shared he disagreed with the comment, all while praising the "About Damn Time" musician in the same breath.
"The comments in itself are stupid," Love said.
"I mean, Lizzo is a phenomenon, and she's talented, and he's not so talented. He's got one gear. He's a, 'Yo, son.' But if you know the story of Aries Spears, he's the guy we saw on Def Jam as a kid. He was 13, and 14 years old. They flew him to Hollywood, thinking he would be the next Eddie Murphy and 'wamp, wamp.' He was so angry."
During the interview, he shares how he views Lizzo as a "rockstar."
"So, that's his pinnacle," Love began.
"Here comes Lizzo, takes the world by storm. Bam! She plays the flute, which is amazing because Brick was the last person I know who made the flute fly. Many people don't even know who Brick is […] Anyway, I think she plays way more instruments than that. Her doing all that other stuff is just her being a rock star. Every rock star doesn't have to look like Alicia Keys or whatever. That's what makes her Lizzo. But he doesn't understand that because he's so busy trying to fit Eddie Murphy's mode."
Whew! You can watch the full interview below.