Exclusive: Deion Sanders' Son Shedeur Sanders Talks About His 'Amazing' And Historic NIL Deal With Gatorade
He became the first HBCU athlete to sign with the iconic sports beverage brand.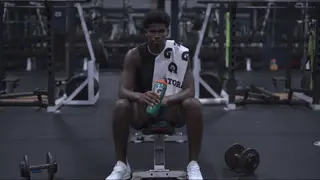 In September of 2020, Deion Sanders took on the role of head coach at Jackson State University in Mississippi, and since, so much has changed both for the school's football team and HBCU programs in general.
During his first season, Sanders and JSU compiled an 11-2 record (undefeated in conference play) and won the Southwestern Athletic Conference (SWAC). While the success came from excellent coaching and excitement to play for an NFL Hall of Famer, much of it was from Sanders' son Shedeur who started for the Tigers at quarterback and filled up the stat sheet.
During his freshman season outing, Shedeur passed for 3,231 yards, 30 TDs, and only 8 interceptions as the signal caller. As a four-star recruit, he's also one of the top prospects any HBCU has ever landed. Now, heading into his sophomore year, Shedeur Sanders is turning his stardom into green as he just announced a name, image and/or likeness (NIL) deal with Gatorade, becoming the first HBCU athlete in history to partner with the iconic sports beverage brand.
Gatorade, and PepsiCo who owns the brand, announced on Thursday (January 27) the partnership between them and Sanders. It's something that both are extremely excited about.
"Gatorade works with a bunch of legendary athletes and to be a part of that is just amazing," Sanders told BET.com about the new deal. "It's a feeling that, as a kid, just knowing that drinking a Gatorade was just regular – not even thinking down the line that this would happen. I'm just real excited for it."
"As one of the most elite college freshmen athletes today, Shedeur is an incredible addition to the Gatorade Family," Chauncey Hamlett, CMO/VP of PepsiCo Beverages North America, South Division added. "Shedeur has achieved greatness at a young age and embodies what it means to be a Gatorade athlete with more great things to come in his future. Signing Shedeur is another statement that our brand fuels the best athletes in the world, including the incredible talent at HBCUs."
The deal is not the only way Shedeur is making HBCU history. Last month, he won the Stats Perform Jerry Rice Award, which is presented to the national freshman player of the year in Division I FCS. In doing so, he became the first recipient of the award from an HBCU.
"I'm really excited to be able to win that award," Sanders said. "I just feel like it's a part of the process, believing in god and knowing where god will take you. It's just very amazing what he's doing for me and my life and for others in their life is just unbelievable, so I just really appreciate that."
As far as his school goes, Jackson State football has made many headlines under the father-son regime. Earlier this month, Deion Sanders landed recruit Kevin Coleman, the No. 58-ranked prospect in the ESPN 300. And prior to that, he made history by getting five-star corner (No. 2 prospect) Travis Hunter to play his college ball with the Tigers – becoming the highest-ranked prospect to pick an FCS school since ESPN started its rankings in 2006.
"To me, my answers and how you guys feel is definitely different," Shedeur said of the immense success his father has brought to JSU and the awareness to HBCU athletics by and large. "Me, I know my dad, so I already knew he was going to come here and we were going to win. It's just something that's expected. We're just not losers, so just knowing the impact that this has on the country and HBCUs in general I'm just excited for other HBCU teams – even in our conference – to choose better players because everyone wants to play against us. So it's just really exciting to see what's going on."
Shedeur Sanders' brand new partnership with Gatorade was made possible by the NCAA's new NIL rules that allow college athletes to profit off of their work surrounding their sport. While 2021 was the first year that student athletes were able to generate revenue from the rules, it's the only reality Shedeur knows practically as he was a freshman last year. To him, the rule change is great for college athletes and believes everyone benefits from it.
"It changed college athletics tremendously because we are working out there daily and a lot of people don't understand the sacrifice and the grind it is – just being able to get rewarded for that is important, and what you do with your reward, personally, I just share it with my team and share with the big guys," said Sanders. "I just took all the big guys out to the movies the other day. Just giving people things that they haven't been able to do as far as experiences and that's what I do with my NIL [earnings]."
With the new Gatorade partnership, Shedeur Sanders hopes that he's just the first of many HBCU athletes to ink major deals with large brands. He's also just thrilled for what's next, including the 2022 football season.
"The magnitude of the brand and how it'll bring more attention to HBCU sports," he said. "You know I'm the quarterback at Jackson State University so we're a big part of HBCU [sports] right now. I'm just real excited to be a part of the Gatorade family now."