Deshaun Watson And NFL Settle; Browns QB To Be Suspended 11 Games And Pay $5 Million
Watson was originally hit with a six-game suspension but will now miss most of the upcoming season.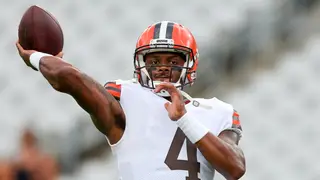 Deshaun Watson and the NFL have reportedly settled on the suspension length and fine the Cleveland Browns quarterback will serve and pay.
CBS Sports reports that the Pro Bowl signal caller will sit out 11 games this season and pay a $5 million fine. Originally, an independent arbitrator hired by the league ruled that Watson should serve a six-game suspension. The NFL subsequently sought a full-year suspension after the ruling was made.
According to ESPN, Watson's decision to accept the NFL's settlement offer, which has yet to be signed, means the case is officially over from a football perspective. He'll be eligible to return to the team on November 28 and play on December 4 against his former team, the Houston Texans.
While Watson denied a settlement offer last month, he had little choice to do so now. The NFL's decision to appeal the original punishment put the ball in the league's court because the appeal was being overseen by Peter C. Harvey, who was appointed by NFL Commissioner Roger Goodell.
Sue L. Robinson, the independent arbitrator and disciplinary officer appointed by the NFL, handed Watson the six-game suspension after 24 civil lawsuits accused him of sexual misconduct during massage sessions while he was with the Texans. It's something Watson has expressed his remorse for.
"I'm truly sorry to all the women that I've impacted in this situation," he told CBS Sports reporter Aditi Kinkhabwala. "My decisions that I made in my life that put me in this position, I would definitely like to have back. I want to continue to move forward and grow and learn and show that I am a true person of character. I want to keep pushing forward."
Goodell called Watson's actions "egregious" and said he represented "predatory behavior" during a special league meeting in Minneapolis while explaining the league's decision to push for a longer suspension.