NAACP Image Awards: 5 Reasons Why Will Smith And Martin Lawrence Are Bad Boys For Life
Will Smith and Martin Lawrence are one of the best comedy duos of all time and there's a reason for that.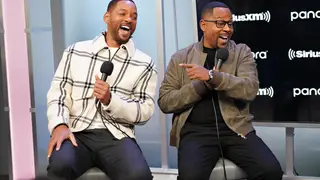 Will Smith and Martin Lawrence are megastars in their own right but when they link up, they are arguably the best duo ever on the big screen. The organic chemistry between the two is unquestionable as they've brought us tons of laughs and plenty of iconic actions with the Bad Boys franchise. Smith played Mike Lowery, a well-to-do playboy while Lawrence played Marcus Burnett, a stressed-out family man. One thing these two had in common was that they loved bringing down criminals on the streets of Miami as narcotics detectives.
Looking back, the stars aligned in 1995 when both Smith and Lawrence, who were two of the hottest leading Black actors on the scene, decided to work together. Pairing these two ultra-talented brothers, was a game-changer as they took the entertainment world by storm with three box-office blockbusters in a row. As legends in the industry the duo created a blueprint for all Black actors to follow.
Here are 5 Reasons Why Will Smith And Martin Lawrence Are Bad Boys For Life.
Winning An NAACP Award For Most Outstanding Picture

At the 52nd NAACP Image Awards, Will Smith and Martin Lawrence took home one of the top prizes of the evening, Most Outstanding Motion Picture, for 2020's Bad Boys For Life . In their acceptance speech, Smith and Lawrence remarked that they are currently developing Bad Boys 4, the final installment of the successful franchise. Whenever it is released, we'll be there to say goodbye to Mike Lowery and Marcus Burnett as they ride off into the sunset.

Martin Lawrence Suggested Will Smith For Bad Boys

It's good to have someone looking out for you. Many may not be aware that it was Martin Lawrence's idea to have Will Smith as his co-star in Bad Boys. Can you imagine what would happen if someone else got the role?

By 1995, Lawrence was one of the biggest comedians on the scene and had the cache to select any co-star in his upcoming film that would eventually become Bad Boys. "I had dinner with Will and after five minutes of talking, he got the job," remembers Lawrence. "It was one of the best decisions I ever made." The tandem of Lawrence and Smith yielded a major return as the Bad Boys is one the most successful, buddy-cop film franchises of all time.

Will Smith Made a Cameo On Martin

During the 90s, Martin Lawrence with Martin and Will Smith with The Fresh Prince of Bel-Air had two of the funniest Black comedies on television. In the fourth season episode of Lawrence's show, "Where the Party At," Martin is stunned to find out that none of his friends will attend his birthday party. But he was surprised when everyone was at neighborhood bar Nipsey's and Smith was a part of the celebrity video tribute. Making a cameo on Martin, shortly after their film dropped, Smith and Martin were showing the world that they were Bad Boys for life.

The Bad Boys Franchise

Will and Martin Are Best of Friends Off-Camera

Besides their chemistry when the cameras are rolling, Smith and Lawrence are the best of friends in real life. It's rare to find peers within the entertainment industry, especially when you reach a certain status, that you can connect with and build a relationship that lasts.

The two buddies have done that and it's the vital component to their success. They have real love and genuine respect for each other as actors but more importantly as human beings. For over twenty-five years and counting, Smith and Lawrence's enduring friendship has created magic on the big screen. Because of their bond as brothers, they will forever be bad boys for life.