Bill Cosby's Publicist Tries To Clarify R. Kelly Was 'Railroaded' Statement
Andrew Wyatt took to social media to set the record straight.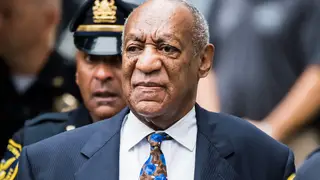 It seems that the man working for Bill Cosby wants to set the record straight.
Andrew Wyatt, the spokesperson and publicist for Cosby, issued a statement today through Cosby's social media account to correct previous comments made after the R. Kelly verdict was handed down earlier this week.
In an attempt to clarify earlier statements that many believed were made by Cosby through his publicist, Wyatt posted, "As the publicist of Mr. Cosby, I have the right to my opinion and my opinion is not a reflection of Mr. Cosby's. Yes, I feel that Robert Kelly was railroaded and those words were my words, not the words of Mr. Cosby."
The overall reaction from social media includes people questioning why Wyatt wouldn't have used his own account to make these statements in the first place.
Cosby came under fire after Wyatt's post in response to a Brooklyn, NY jury which found R. Kelly guilty on all nine counts of racketeering and sex trafficking. 
Posted September 29, 2021
Sometimes silence is indeed golden. In a Sept. 28 interview with the New York Post, a spokesperson for Bill Cosby said the comedian feels that the now convicted R. Kelly was "railroaded" in his recent sex trafficking trial.
According to Cosby's representative Andrew Wyatt, the 84-year-old believes that Kelly "was screwed" and "wasn't going to catch a break" in his federal trial that ended Sept. 27. A Brooklyn jury found the singer guilty on all nine counts of racketeering and sex trafficking. 
Cosby was released from prison on a procedural technicality in July 2021 after his own conviction of sexual assault and accusations made by more than 50 women. The since disgraced actor was convicted in 2018 of drugging and sexually assaulting Andrea Constand. He served more than two years of a three-to-10-year sentence at a Philadelphia-area state prison. 
Of course, Twitter had some responses to Cosby's opinion of the verdict, a few of which are stated below:
"The deck was stacked against Robert. His constitutional rights were grossly abused. I don't know anywhere but in this country in the United States that a documentary (Surviving R. Kelly) can bring criminal charges against someone," Wyatt stated.
According to Wyatt, Kelly's legal defense team failed to fight "hard for him" and didn't "humanize" the fallen R&B icon.
"He also didn't have the resources and means, he should have asked for support from the court. He would have gotten better representation," Wyatt continued.
In June 2021, the Pennsylvania Supreme Court overturned Cosby's conviction after finding that a "non-prosecution agreement" had been made with a previous prosecutor on the case, which should have prevented him from ever being charged in the first place. 
Wyatt said racism was a factor in Kelly's conviction, according to TMZ, adding that he predicted that an appeals court will overturn the deciison.