Jennifer Hudson's Ex Is Dragging Her Back To Court For Singing This Song On Live Television
He says the lyrics violated their gag order.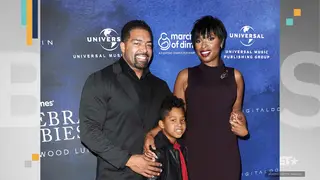 The battle between Jennifer Hudson and her ex-fiancé David Otunga gets messier by the day. Weeks after Hudson filed a protective order against Otunga, the former couple is headed back to court.
According to TMZ.com, Otunga filed court documents claiming that shady comments made by his ex on The Voice UK and on her social media accounts violate the gag order established in their child custody battle.
The former WWE star accuses Hudson of alluding to their split on the December 4 episode of The Voice. During the recent episode, contestant Davon Fleming revealed that he decided to sing Christina Aguilera's "Hurt" because none of his relationship s"ever work out." Hudson jokingly replied to Fleming's statement saying, "Child, mine neither."
Otunga also claims one of J-Hud's recent Instagram posts where she briefly talked about hate and jealousy was a subliminal shot at him.
David Otunga, who was recently granted primary custody of their 8-year-old son David Jr., wants a judge to find his ex in contempt for violating the order.
Jennifer Hudson and David Otunga called it quits earlier this fall after they were together for 10 years.