Nikki McCray-Penson, Olympic Gold Medalist, and WNBA Star Dies at Age 51
She brought home two Olympic gold medals as a member of Team USA in 1996 and 2000.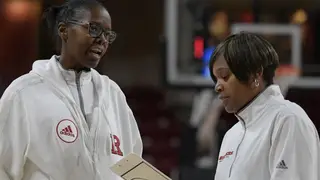 Former basketball star and two-time Olympic gold medal winner, Nikki McCray-Penson has died at age 51.
According to CNN, the cause of death was not announced. However, McCray-Penson was diagnosed with breast cancer in 2013.
"Today is a deeply sad and emotional day for everyone who knew and loved Nikki," Rutgers head coach Coquese Washington said in a news release. "Nikki had a big smile and an even bigger heart. She was full of life, energy, and was so much fun to be around. Nikki touched the lives of many because she made it her mission to uplift others and help them achieve whatever dreams and goals they expressed. She was so devoted to her husband and son, and still gave all of herself to everyone in the program. We will miss her dearly but will keep Nikki's memory alive in our hearts."
McCray-Penson played at the University of Tennessee under Hall of Fame coach Pat Summitt. She brought home two Olympic gold medals as a member of Team USA in 1996 and 2000.
McCray-Penson went on to play two seasons in the American Basketball League, earning MVP honors and winning the League championship with the Columbus Quest in 1997.
She then entered the WNBA and played nine seasons and was a  three-time All-Star.
McCray-Penson also had a legendary 15-year career as a coach. She was part of the coaching staff that led the University of South Carolina to their first national title in 2017 under Dawn Staley. It was the first title for the women's basketball program. She later served as the head coach at Old Dominion and then Mississippi State University.
McCray-Penson was inducted into the Women's Basketball Hall of Fame in 2012.
In a statement on Twitter, the WNBA expressed their condolences writing, "Our hearts are heavy as we learn of the passing of Nikki McCray-Penson. A beloved member of our WNBA family, Nikki was a 3x WNBA All-Star during her 8 seasons in the league."
"Our thoughts and prayers are with Nikki's family and loved ones at this time."