Barack Obama Shares A Personal Memory Of Chadwick Boseman That Will Bring On More Tears
The former POTUS is as heartbroken as the rest of us.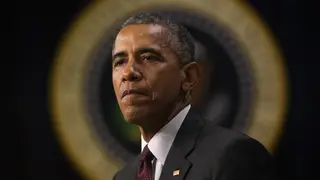 President Barack Obama added his voice to the chorus of people sharing tributes to late actor Chadwick Boseman, sharing a personal memory of the Black Panther star's first visit to the White House.
"Chadwick came to the White House to work with kids when he was playing Jackie Robinson," Obama tweeted. "You could tell right away that he was blessed. To be young, gifted, and Black; to use that power to give them heroes to look up to; to do it all while in pain – what a use of his years."
The former POTUS retweeted Boseman's own tweet featuring a picture of the two of them at the White House from 2016:
Boseman died on Friday (August 28) after succumbing to a four year battle against colon cancer. News of his death was announced on his official social media channels.