Here's One Person Who Says Justin Timberlake Shouldn't Bring Janet Jackson To The Super Bowl
Former Fugees member Pras shared his thoughts on JT's return to the mega stage.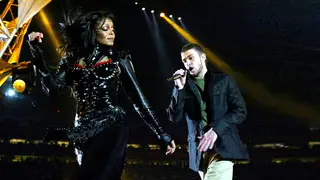 While much of the internet (read Black Twitter) would rather opt out of a halftime performance from Justin Timberlake during the impending 2018 Super Bowl, The Fugees' Pras is welcoming the return of the singer. 
On Sunday night (Oct. 22), TMZ caught up with the rapper while he was out and about in LA to hear his thoughts on JT's upcoming performance. When asked if he was looking forward to the pop singer's return to the mega stage, Pras didn't hesitate to praise the former NSYNC member. "Justin's great. I love Justin," he responded. "Justin will be great." 
But when it comes to JT's former collaborator and "Nipplegate" accomplice Janet Jackson, Pras wasn't so confident that the NFL should revisit the re-pairing of the entertainers. "I don't think they're going to bring Janet, though," he began. "There's no need for Janet." 
"I get it. You kind of want [it] to [be] like part two," he continued. "But, I think the NFL would be mighty scared just to make sure nothing like that every occurs again." If you can recall, JT performed alongside Janet Jackson during the 2004 Super Bowl and the duo made the show one to remember. During the closing moments of their set, the "Rock Your Body" singer accidentally ripped off Janet's costume, exposing her bare breast.
The incident, also known as "Nipplegate," caused quite the stir after, prompting the FCC to institute a five-second delay on live broadcasts. Following the performance, Janet and JT apologized for the scandal. But it has long been documented that Janet was never quite able to revive her career in the sports community after being blackballed. 
Take a look at Pras' full remarks on Justin Timberlake's Super Bowl performance below.