Blac Chyna's Plans to Trademark the Kardashian Name Just Took a Left Turn
The drama continues.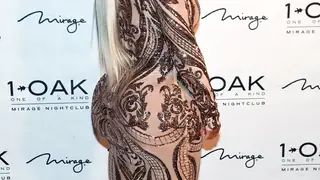 It looks like things didn't go in Blac Chyna's favor as she is reportedly giving up in her pursuit to file documents in response to the Kardashians' allegations that she would tarnish their popular name if she were to legally adopt it.
According to the Daily Mail, the Patent and Trademark Office filed a notice of default against the model-turned-reality star on January 20, informing her that she doesn't have much time left to make a move.
They explained that since she did not file a response to the Kardashians, she has 30 days to do so before a judgment by default will be entered "on behalf of the Kardashians."
Legal documents stated that Chyna initially planned on using her new name, Angela Renée Kardashian, for promotional purposes on social media throughout the rest of her career.
A source claimed, however, that the Kardashians' immediate reaction to the drama may have been a mistake.
"The Kardashians own their trademarks in most categories worldwide, and the trademark attorneys' standard practice is to oppose anyone who tries to file anything," a source said. "They probably didn't even know it was happening."
For more on Blac Chyna, check out the BET video above.