12 of Michelle Obama's Most Epic Side-Eyes Decoded
Michelle's face describes our sentiments exactly.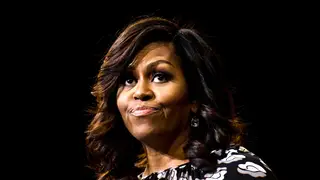 #HOOOMYGOD

We joined Michelle with this face when we heard Melania Trump's speech. "Ohhhhhh no she didn't! Lawwwdd!"

Go 'Head, Boo!

The side-eye that reads, "That's my man!"

Congrats to you

Oh, the shade. "Do you want a cookie?" Side-eye. 

What's for dinner?

The side-eye of distraction. This is a face that reads, "I'm here, but my mind has wandered into a faraway land."


GIRL, BYE

The side-eye many women and men know. "Girllllll, what you lookin' at?"

You be knowin'

That one time you didn't play yourself and said all the right things. 

LISTEN UP

"Y'all talkin' over me? Because I'm speaking and I see you."


You Thought

When you knew you were right all along. "I told you so!"

Bruh

The universal look of any woman that is dissatisfied, to say the least. "Mmhmm." *Inserts emoji face in text*

MMMK, SWEETHEART

When that one person is just trying to test your patience. "Try me, babygirl. Try me." That's that petty side-eye.

Ya Don't Say

You know when someone just keeps talking and talking and you hear them but you know they're not making any sense? That's this look. 

That ain't right

The side-eye that most of the USA gave when the popular vote didn't win. We feel you, Michelle!