Cynthia Bailey Dishes On Being Single and Searching For Love After Divorce
"I just want love and I just want my partner," the reality star said.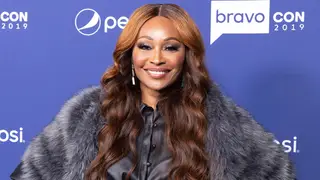 Cynthia Bailey wants to be in love.
While at the iHeart Music Festival in Las Vegas on Saturday (September 23), the model opened up to PEOPLE on how she is adjusting to life as a single woman.
"It's coming along all right, it's coming along," she said.
Although The Real Housewives of Atlanta star is surrounded by a special person, she's not putting all her eggs in one basket.
"There's someone that I really like dating a lot, but we're taking it slow. I'm still open to dating other people."
"My person might be out there in the crowd," she quipped.
The Bailey Agency founder also pointed out, "I am a single woman" who is "normal.
"I'm actually really down to earth and normal and excited to meet my person," she shared.
But don't think she is looking to walk down the aisle anytime soon.
"It doesn't have to end in a marriage," she says of a relationship. "I just want love, and I just want my partner. I just want my person, and that's it.
Even so, Bailey seems still open to marriage, "Now, if we end up getting married, then that's what it is, but that's not my focus."
"Aw, your divorce is final?" Moore replied.
For Bailey, only one word could break it down. "Officially," she shared. But for the entrepreneur, emotions surrounding her divorce from TV host Mike Hill are mixed. "It's like a happy sad," she said.
The now-divorced duo exchanged nuptials in October 2020 but filed for divorce two years later.
"God does not make mistakes! I truly believe in my heart Mike coming into my life was destiny. I jumped in, both feet first and gave it my all," she said in a statement.