Receipts! Rob Goes Ballistic on Blac Chyna, Accuses Her of Cheating, Surgery and More
The Kardashian went H.A.M.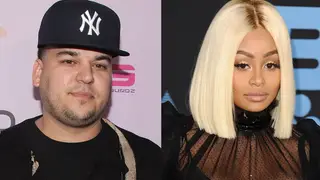 It seemed like the internet was given a break from the drama that is Rob Kardashian and Blac Chyna's relationship — or lack thereof — but that all came to an end with the famous reality star's latest epic rant against his ex-fiancée.
While the social media community's seen these two go at it so much that another spat would seem like a regular Wednesday, this time was different as something seemed to snap in Kardashian as he exposed the mother of his daughter for everything from cheating to plastic surgery and much more. Also, he had — and posted — receipts to back up his claims.
It all started when Rob posted a video of Chyna making out with a new man above a caption where he said she sent him the video herself, wishing him a "happy 4th of July." Take a look, below:
Get more drama on the former couple in the BET Breaks video, above.
It seemed as that was all Rob needed to lose all chill as he went on a posting spree exposing Chyna like never before.

Focusing on getting the truth out about his ex's allegedly unfaithful ways, Rob posted a photo of the man she was booed up with who he said was laid up in the robe he paid for. To make things even messier, he posted a screen shot of a text conversation he had with the new man where he asked Rob for money because he "can't afford to pay Chyna's bills."

After seeing her ex go HAM, Chyna took to Snapchat to accuse Rob of physically abusing her and more.

Seemingly unfazed by her words, Rob just continued to drop receipts, posting a lewd screen shot of a conversation he had with Chyna from allegedly one day prior to their blow-up, where she sent him a nude that was apparently the first of many.

From there, the nude exposure only got worse as he posted more explicit photos of Chyna with equally disturbing captions detailing when she sent them and the work she got done that he allegedly funded.

He then dragged her for making false claims that she lost the baby weight through working out and changing her diet, when he alleged that he paid for her to surgically get her snap-back body right after the birth of their daughter, Dream.

Adding the cherry on top of their latest public fight, Rob then accused Chyna of being an alcoholic and a druggie, threatening that she will never get to see their daughter again if she does not kick her habit of abusing alcohol, cocaine and "X and E."

Social media's been having a field day with this one: