Melanie Fiona Marries Fiancé Jared Cotter After Postponing Their Wedding Three Times Due To The Pandemic
Love is not canceled.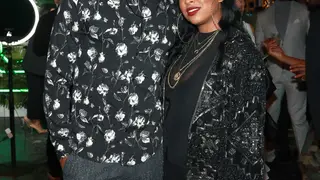 After postponing her wedding three times this year, singer and songwriter Melanie Fiona decided to marry her long time beau, Jared Cotter, at a small Los Angeles chapel. Like many couples who planned to wed in 2020, the pandemic has forced them to postpone their nuptials or get creative. The duo ultimately opted for the latter and their wedding did not disappoint.  
The lovely couple posted a video to Instagram sharing the beautiful day with their followers. Set to the tune of John Legend's "Who Do We Think We Are", the video opens with their 4-year-old son, Cam busting his best celebratory moves and linking up with mom and dad for a stylish family photoshoot.
Melanie looks stunning in a fitted mini flare white dress, with her hair styled in loose curls. Jared wore a grey suit and a pair of white and grey Nike Blazer sneakers. The couple then enjoys a toast and fixes the other up to get ready for their big day. As they get into their car, Jared puts directions into his GPS for LA Wedding Chapel, Same Day Marriage. 
The Canadian-born songstress didn't want to wait any longer to marry Jared. Her caption read: "Anything is Possible...✨If you're willing to adjust your perspective. We had to postpone our wedding three times this year. We had to accept that a full ceremony with our loved ones could not be possible until 2021. But we also knew we wanted to be married this year. So, we made it happen!!! We took what was in our control and saw it through. On 12-12-2020, I married my best friend, my partner, my twin flame, in the most perfect possible way. ✨💜✨" 
She continues, "Remember, things might not look the way you envisioned, but if you're willing to surrender... to detach from your ideals and expectations, you can joyfully find your way back to the intention... The reason you started in the first place."
The touching video closes with the newlyweds stopping at a local liquor store to enjoy a champagne toast on the sidewalk. 
Congratulations to the happy couple!