MLK Holiday: Dr. Bernice King Explains Why Her Father's Message of Love and Nonviolence Is Now More Important Than Ever
Observing what would have been her father's 93rd birthday, the daughter of the late civil rights icon looks at the current social landscape and talks about why his work remains so relevant.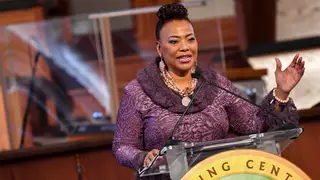 *Editor's Note: This interview was published on Dr. King's birthday in 2022.
Nearly 54 years after his passing, the struggle for voting rights that Dr. Martin Luther King Jr., was so deeply engaged now continues with a battle that is being fought on new fronts. In his time it was fought in places like Selma, Ala., on the Edmund Pettus Bridge. Today, it is being fought in Congress and in state legislatures.

His daughter, Dr. Bernice King, CEO of the Atlanta-based King Center for Nonviolent Social Change, understands the urgency of continuing the battles her father fought. Approaching what would have been his 93rd birthday, she spoke with BET.com about the outlook for voting rights and where this nation currently stands.
BET.com: First of all let's clear up any misconceptions about the King family or the King Center not celebrating the King holiday. Your brother, Martin Luther King III is planning a march and rally in Arizona to support voting rights on that day, correct?
Dr. Bernice King: In Arizona, right, where Senator [Kyrsten] Sinema is one of the two predominant senators who do not support having a workaround with the [Senate] filibuster, and so the idea is to put more pressure on her. There's been a lot of efforts toward [W. Va. Sen. Joe] Machin over the last six to nine months. This is an effort to focus the attention around her because she also is very critical in this decision.

BET.com: Regarding voting rights, your family has a long history of backing them. With the space we're in today, are you more worried about voting rights being threatened?

Dr. King: I'm concerned, but I don't want to use the word "worried." We will know more after the midterm elections for sure, whether it feels like we're going back has occurred or not. We can't sit back and not ensure that there's some federal protections in place. The way the new legislation is written – and many of those state legislatures are led by Republicans – it positions them to potentially decide that there's a problem in the election, just arbitrarily, decide to overturn results, which means the vote that I cast, as a citizen of whatever state, you know, is not really valid.

And that's not just true for Black and Brown people, it opens it up to everyone's vote being disenfranchised. So, if ever there's a time that there's a majority on either side, it positions people to be disenfranchised, regardless of your party.
The heart and soul of who we are as a democracy is our right to be able to freely cast our votes and that our votes are not intercepted by some arbitrary process.

RELATED: Dr. Martin Luther King Jr.'s Granddaughter Speaks Out On Voting Rights


BET.com: At a press conference announcing the King Center's plans for the MLK holiday, you talked about a shift in priorities. Can you go into some detail about the kind of change in focus that is taking place?

Dr. King: Well, you know, [the idea] came from my father's writings in 1967 in Where Do We Go From Here: Chaos or Community? We never made the shift back when he first called for a revolution of values where he said we must rapidly begin a shift from being a thing-oriented society to a person-centered.
My father was concerned about the excessive drive towards materialism in this country, that oftentimes will put profit above people and put even technology above people. He had a saying that I really want to emphasize, because we do have to shift our focus to ensuring that our leadership and our policies are person-centered.

He said, when computers and machines, profit motives, and property rights, are considered more important than people, then the giant triplets of what he called racism, extreme materialism, and militarism are incapable of being conquered. What I hear him saying and what I firmly believe is that if we don't shift our priorities, all of the energy that people are putting towards eradicating poverty, racism, and militarism today, we will simply be incapable of conquering them.
We need to focus on making people feel important in terms of valuing, and respecting people and treating people with dignity. We need to make humanity more important. He said we must develop this overriding loyalty to humanity, and not just be focused merely on "my" particular group, "my" particular nation, "my" culture. These things that threaten us, they threaten all of us, because like he said, "injustice anywhere is a threat to justice everywhere."

RELATED: MLK DAY: Historical Landmarks In Georgia And Alabama To Visit In Commemoration With Dr. Martin Luther King Jr.

BET.com: You started the #BeLove initiative last year? Are you planning to do more with it this year?

Dr. King: We didn't push a pause button per se, but we focused a lot of energy on trying to launch this major platform that is going to help with that campaign. It's one thing to put words out there. Now we need to put something solid in place where people can spend time learning about the power of love and action, because that's what nonviolence is and that's what daddy did.

My father translated his love for humanity and his love for all people into an action agenda that brought about transformation and change in the south. No matter what people say, by law, segregation is gone. Now by practice, it still exists. We're still separated, people still put up barriers and all of that kind of nonsense. In my personal opinion, nonviolence is the best, and perhaps the only, way to create lasting change and set us up to have a true sense of community. Yes, there's going to be friction, there's going to be conflict, but nonviolence gives us the means to resolve it in a way that there's dignity at the end of the day. People are ultimately held accountable and uplifted, and there's an opportunity for people to be restored, and eventually be redeemed and then reconcile.

PHOTOS: Timeline: Creation of the Martin Luther King Jr. Holiday

BET.com: The King Center is also the home of Nonviolence365 curriculum, which trains groups and organizations how to incorporate nonviolence into the ecosystem of their work. Can you give us an overview of what to expect from someone who may want to participate?

Dr. King: They're going to first learn that violence is more than physical. I've had so many people say to me, I'm not violent. I'm like, okay, what's your language and engagement like on social media? Violence can readily happen with our tongue, which can perhaps be much more damaging in the long term.
Overall, people will learn about the principles of nonviolence that my father exposed to the movement. They will understand the context of all of the different major campaigns that took place during the movement. Nonviolence is not just going out in the street and holding up the signs, and making noise that people make. Nonviolence is a whole strategic process. They will understand the power of organizing, mobilizing, strategizing to create social transformation, and how to make that work in your personal life.

BET.com: I spoke to Congresswoman Sheila Jackson Lee last week and she brought up the Beloved Community when describing what she experienced during the January 6, 2021 insurrection. The country seems as divided as it was when your father fought for civil rights. What do you think will help bring us politically closer?

Dr. King: First of all, we've got to stop seeing ourselves as us and them, as Democrats and Republicans, and [whatever other] labels we put on each other. We have to start really analyzing and looking at, how do we get here? And what creates the kind of behavior that we saw last year on January 6.
We say it was wrong. It was dangerous. It undermined our democracy. All that is true and nobody disputes that, but the people still exist. They still breathe, they're still a part of our world, and so we've got to figure out, where does this come from? We have to do the hard work that we don't often like to do because it's easier to just put people out on the margins, and be done with them.

The language that daddy used in so many ways is true, even in this case. And I know this is going to get a little pushback – when he said "riots are the language of the unheard," he didn't qualify it to explain which unheard. What is it that we're missing? You know, because, okay, somebody stirred somebody up, but you can't stir me up, if there's nothing in me to be stirred.

We keep coming back here over and over again. We must try to figure out where this is coming from and what prescription we need to apply to it so that in the accountability, there can be whatever reparations that will come from it. Whatever redemption, whatever restoration needs to come from it, and ultimately the reconciliation that will come in the end.

The King Center For Nonviolent Social Change has an entire weekend of programming including the 2022 Beloved Community Awards, featuring Olympics gymnastics gold medalist Simone Biles, Nobel Prize winner Malala Yousafzai, and civil rights leader Dr. William J. Barber II; the Beloved Community Youth Global Summit, and the Martin Luther King Jr. Commemorative Service. Visit https://thekingcenter.org/ for more details.
*This interview has been edited for clarity.