Kyrsten Sinema's Refusal to Consider Changing the Filibuster Could Doom Voting Rights Legislation
The Arizona Senator's refusal places President Joe Biden in a position where he may be unable to fulfill his promise to Black voters.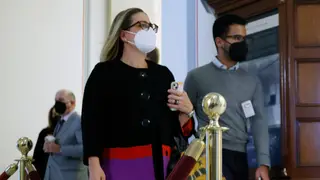 The voting rights efforts that Democrats have struggled to move forward with hit a serious, possibly crippling, obstacle on Thursday (Jan. 13) because Arizona Senator Kyrsten Sinema has announced she will not support eliminating the filibuster. The development could mean legislative efforts to support voting rights legislation is frozen, and puts President Biden in a position where he may be unable to deliver a major promise to the millions of Black Americans who cast their ballots for him last November.
The New York Times reported that Sinema's speech preempted the president's visit to the Capitol to meet privately with Democrats. Sinema said that she backed two new voting rights measures but claimed to be alarmed about new voting restrictions in some states. She said she believed that a unilateral Democratic move to weaken the filibuster would only foster growing political division.
"These bills help treat the symptoms of the disease, but they do not fully address the disease itself." she told reporters. "I will not support separate actions that worsen the underlying disease of division infecting our country."
Sinema's comments are a huge setback to Biden. Just two days ago in Atlanta, he delivered a speech calling for a change in Senate rules.  Despite pressure from her colleagues to stop obstructing the Democrats' plan to make a rules change.  However, her flat refusal is likely to doom the bills in the Senate.
Bloomberg reports that Republican Sen. John Thune told said that her speech "should put kind of the nail in the coffin of the idea that somehow they might eventually win. So the question is when they want to lose and is losing later in the weekend or on Monday, optically advantageous for them politically, because I think right now, that's what it's all about."
The legislative package, approved by the House on a 220-203 vote, includes the Freedom to Vote Act which will expand ballot access. The other bill as part of the package would restore Justice Department powers that were stripped by the Supreme Court in 2013, is the John Lewis Voting Rights Act. This restores the Justice Department's ability to require some states to get pre-clearance for changes to their voting laws. Both bills were blocked last year by Senate Republicans.

Biden and Senate Democrats are in favor of changing the rules to eliminate the filibuster, at least in this case, to prevent Republicans from blocking the legislation. But it takes 60 votes to end the filibuster, which unlikely to happen in a Senate split 50-50 between parties.
L. Joy Williams, president of the Brooklyn chapter of the NAACP, told BET.com that this news is disappointing, but Biden was given the White House by the people who are still in danger of their voting rights being stripped away.
A failure to pass these bills just before midterm elections could prove damaging to Democrats who hold only slim majorities in many places.  This would also count as the second major setback for Biden's agenda in less than a month, after West Virginia Democratic Sen. Joe Manchin halted work on the president's $2 trillion package of social and environmental initiatives and eliminated the child tax credit just before Christmas.