Best Fall Fragrances For Cozy Sweater Weather
These warm, aromatic, and spicy scents will stimulate your senses.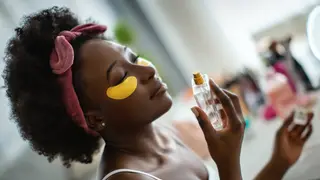 After enjoying a summer of light, airy, and bright-smelling scents as the temps start to dip, choosing something a little warmer and comforting might be on your mind. We're not saying you should immerse yourself in heavy odors or choose only products labeled with pumpkin spice. Instead, consider leaning into fragrances with notes of vanilla, bourbon, cashmere, and a hint of musk. 
And although some cult favorites like Parfum de Marly's Delina, which we rocked spring into summer, work just as well from September to December, you may want a little something new. However, navigating those perfume aisles can feel overwhelming. But no worries, we have you covered because we did some sniffing around, and here are eight scents that are guaranteed to tickle your olfactory sense and delight you.
Brown Girl Jane: Dawn

While it is hard to miss the creamy vanilla scent of Dawn from Brown Girl Jane, its initial notes of raspberry, cassis, and water lily faintly delicately infuse a fresh and fruity aroma.

Fenty Beauty Parfum

Magnolia, musk, tangerine, and Bulgarian rose are the notes from which the multi-talented Rihanna crafted Fenty Eau de Parfum. And like most things she touches, this is liquid gold. The singer said, "I made a fragrance for myself and am now sharing it with you."

Parfums de Marly: Althaïr

Recently launched from Parfums de Marly is warm and inviting Althaïr. This unisex fragrance combines delectable notes of vanilla, cinnamon, and cardamom and is balanced with subtle hints of bergamot and orange.

Kimberly New York: Artsy

Candied apples and marshmallows surrounded by the scent of creamy sandalwood are all the things that Halloween with a cozy fireplace needs. Those are the very elements featured in the fragrance Artsy, described by the brand as abstract, colorful, and cool; coincidentally, it is its top seller.

World of Chris Collins: Autumn Rhythm

Former model Chris Collins founded a namesake fragrance brand that is readily available from Sephora. Choose your favorite by opting for the discovery set, or check out the latest brand offering, Autumn Rhythm, featuring notes reminiscent of a romp in the woods: leather, cedarwood, tonka bean, ambrette, and musk.

Aroma360 Perfume and Body Collection

In a press release from Aroma 360, brand ambassador Winnie Harlow selects the red option made with grapefruit, heliotrope, amber, and sea moss as her top choice for a "big night out." We can't deny that she is right because it is lovely and vibrant, but if you are looking for something with a little spice and a rich aromatic blend, consider the purple bottle with notes of peppercorn, cardamom, and patchouli.

Byredo: Bal d'Afrique

Byredo is a  beloved fragrance house renowned for chic scents, including De Los Santos. Nevertheless, Bal d'Afrique, one of the founder's initial creations with top notes of African marigold, bergamot, and buchu and its grounding base of Moroccan cedarwood and vetiver, is the perfect addition to your fragrance etagere.

Kayali: Yum Pistachio Gelato

Social media is abuzz with accolades for Kayali's products. From YouTube to Lemon8 and endless TikTok videos about the brand's newest introduction, Oudgasm, featuring four distinct fragrances, it's pretty hard to miss the love. 

While the latest collection is receiving lots of attention, before this, Kayali had introduced Yum Pistachio Gelato, a fragrance that may give the impression of a summer scent with its mint green bottle and name, but it is the perfect transition from warm temps to sweater weather. Its scent melds notes of hazelnut, sweet rum, cotton candy whipped Cream, and, of course, pistachio.