Slay! Serena Williams Wins Wimbledon 2016
This marks the tennis icon's 22nd Grand Slam title.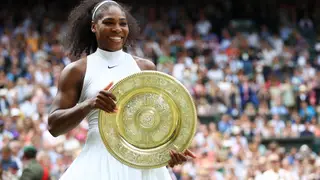 Serena Williams came out victorious at Wimbledon 2016, tying the Open era record for Gram Slam single titles, making this her 22nd with a 7-6, 6-3 victory over Germany's Angelique Kerber, today.
According to SB Nation, in addition to matching Steffi Graf's total number of major championships, Serena also evened a loss to Kerber at the Australian Open final this year.
Since last year's Wimbledon, the athlete has not won a major championship, having lost in the semifinals at the 2015 United States Open and the finals at the Australian and French Opens this year.
With 22, Serena inches closer to Margaret Court, who holds the overall record for Grand Slam titles in the world, with 24 from 1960 to 1973.
Her recent win makes this the seventh Wimbledon title of her career. Serena won her very first Slam title 17 years ago. Huge congratulations are in order for the tennis champ!
Recap how the icon is now the highest paid female athlete in the world in the BET Breaks video, above.