Here's How Baby Dream Has Affected Chyna and Rob's Rocky Relationship
Was she their savior?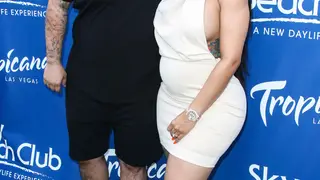 Prior to the arrival of their baby girl Dream, Rob Kardashian and Blac Chyna's relationship was everything but a walk in the park. According to People, however, their newborn daughter's name reflects exactly what she did for their union as they've been nothing but happy since her birth.
"Rob seems extremely happy," a source revealed. "He and Chyna have been getting along too. Rob is very impressed with how Chyna is recovering. He thinks she is great with the baby too."
Before Dream was born, Chyna and Rob's relationship woes were chronicled on their E! reality show Rob & Chyna, with the model even undergoing a paternity test in its season finale. Now, however, it seems as if everything's A-OK.
In fact, according to the Daily Mail, Chyna claims their newborn "has ended those nasty fights" with Rob.
They both have apparently adjusted pretty well to parenthood as well.
"Rob is getting used to taking care of his daughter," the source said. "He was a little nervous at first because she is so tiny. He seems very eager to learn how to care for her. He is changing diapers and [is] very hands on... He keeps saying that Dream is the most beautiful baby he has ever seen."
See how Chyna and Rob cashed in on the birth of their daughter in the video above.