Will Smith Is Reportedly 'Very Happy' with Jada Pinkett Smith's 'Constant Support'
They were recently seen together publicly for the first time since the incident at the Oscars.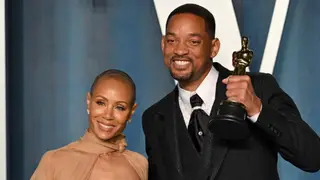 Will Smith and Jada Pinkett Smith were publicly spotted together for the first time since the Academy Awards. Sources say the Oscar winner is grateful for his wife's support.
According to PEOPLE, a source said, "Will is doing good. He spends a lot of time with Jada. He is very happy about her constant support. They are very close and back each other up. Family is everything to them."
The source also stated Will "learned a lot in the past few months. Another source added, "Will is happy about the support he always gets from Jada."
During the Oscars, which aired March 27, Chris Rock joked about Jada Pinkett Smith just before presenting the award for the documentary feature category. He said, "Jada, I love you. G.I. Jane 2, can't wait to see it." Rock's referencing Jada's close-shaved head, a possible result of her struggles with alopecia, which is a hair condition.
G.I. Jane was a 1997 starring Demi Moore, who played a character that shaved her hair off during a U.S. Navy program.
After the joke, Smith walked on stage and slapped Rock. He returned to his seat and shouted, "Keep my wife's name out of your f***ing mouth." Within the hour, Smith won the Oscar for best actor for his portrayal of Venus and Serena Williams' father Richard Williams in King Richard.
Last month, Will Smith said in a five-minute social media video that he didn't apologize to Rock during his acceptance speech because "I was fogged out at that point. It's all fuzzy." He revealed he reached out to Rock and "the message that came back is that he's not ready to talk and when he is, he will reach out."
He then apologized to Rock and said his behavior was "unacceptable and I'm here whenever you're ready to talk."