Meek Mill Is Unfazed by Drake's Landmark Performance
MMG rapper posts #BikeLife pic amid ongoing drama.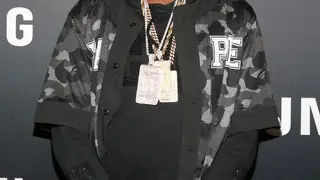 The solitude of the road. That must be the draw of bikes.
The go-to mode of transportation for the in-crowd these days (yes, even Maybach's Meek Mill seems to prefer two wheels) is hardly a training vehicle for your first car, or even a suited and booted-type's mid-life crisis. It's the zen, when you've been everywhere, seen everything.
Cruisers. Dirt bikes. Bicycles...
The destination isn't the focus, it's the ride. The moment of clarity, if you will. Although sometimes dangerous, it must be why, despite the fans yelling, "F**k Meek Mill!" during Drake's set at the Landmark Festival, Saturday, the Philly MC's Twitter finger's didn't even twitch.
Instead, he posted a wheely popping to IG. 
That Meek is so meek in his approach to the onslaught of disses is not much of a surprise. The battle rapper doesn't throw many punches –– even with Drizzy on the bill alongside MMG compadre, Wale, and, yeah, even with the 6 declaring, "He's already dead."
The pressure didn't bust that exhaust pipe. He may be in the zone gearing up for another hit, or, simply, Meek's living: Bike Life. 
BET.com is your #1 source for Black lifestyle news, photos, exclusive videos and all the latest in the world of hip hop and R&B music.
Watch Meek Mill and Rosario Dawson get Punk'd, in the video below.
(Photo: Jonathan Leibson/Getty Images for Samsung)